Depending upon the size and complexity of the event, a party planner may be just what you need to make sure that… read more
everything goes off without a hitch and that you emerge with your sanity unscathed. Denver party planners are professionals who will handle every last detail, from booking the venue to arranging centerpieces, making sure that the event is exactly as their clients wish it to be.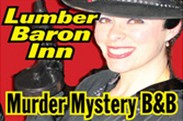 2555 W. 37th Avenue
Denver
CO
80211
(888) 214-2790
These murder mystery shows are interactive and comedy-oriented, that delight all types of audiences, and guests can participate as much or as little as they like. Guests who stay in one of the three luxurious suites receive a two-for-one rate...
Party Planner by Denver Neighborhoods