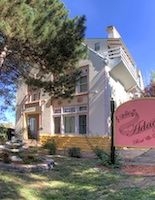 Adagio Bed & Breakfast
1430 Race St, Denver, CO 80206
1.800.252.8197
Need Help?
Call 1.800.252.8197
About Adagio Bed & Breakfast
Located just off Colfax Ave. in Denver's Wyman Historic District, the Adagio Bed & Breakfast is the perfect Denver B&B for the classical music enthusiast. Each room is named after a famous classical composer, and is beautifully decorated.
Articles mentioning Adagio Bed & Breakfast
With the passing of Amendment 64 and 2014 marking the first year for retail recreational marijuana sales for Colorado, visitors have an added reason to plan a vacation along the Front Range—marijuana tours.
Our Low Price Hotel Guarantee
We are confident that our hotel prices are guaranteed to be the lowest rate you can find. If you find a lower rate for your hotel on another site, we'll refund the difference to you. Book with us and enjoy total peace of mind!
If you find a lower rate at any time up until hotel's cancellation window, we'll match the price. The lower price you find needs to be for the same dates, length of stay and room type.
---
Found a better price?
The lower price you found must be available on another website directed to consumers in the same locale, and must be for the same hotel, dates and room type.
If you used a coupon/discount voucher when you made your original booking, you can still claim under the guarantee. We will use the total discounted price you paid and compare this to the lower price you found in order to calculate your refund.
If you have made a booking which cannot be cancelled — whether it is non-refundable or if you are already within the cancellation window for the hotel — then you can't claim under the guarantee. Bookings that were part of a specific promotion (e.g. 3 nights for the price of 2) are also excluded from claiming under the guarantee.
Once we have confirmed that you are due a refund under the guarantee we will issue the refund to the card you paid with at the time of booking. We will process your refund immediately but it may take your bank up to 30 days to process it and for it to show on your statement.
Why book with us?
Denver.com doesn't charge cancellation fees
We're just a phone call away: 1.800.252.8197 or 00.800.1610.1690 (Europe)