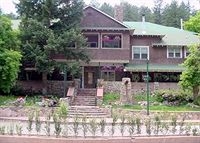 Alps Boulder Canyon Inn
38619 Boulder Canyon Dr, Boulder, CO 80302
1.800.252.8197
About Alps Boulder Canyon Inn
Alps Boulder Canyon Inn is a Hotel business in Boulder
Property Location
With a stay at Alps Boulder Canyon Inn in Boulder, you'll be close to Flagstaff Mountain and Chautauqua Park. This inn is within close proximity of Arnett-Fullen House and Boulder Public Library.
Rooms
Treat yourself to a stay in one of the 12 individually decorated guestrooms, featuring fireplaces. Your room comes with a pillowtop bed. Conveniences include desks and refrigerators, as well as phones with free local calls.
Rec, Spa, Premium Amenities
Enjoy recreational amenities such as a spa tub and a fitness center. This inn also features concierge services, wedding services, and a fireplace in the lobby.
Dining
A complimentary continental breakfast is included.
Business, Other Amenities
Featured amenities include a business center, express check-in, and express check-out. Event facilities at this inn consist of conference space and meeting rooms. Free self parking is available onsite.
Alps Boulder Canyon Inn Amenities
Business center
Coffee/tea in lobby
Complimentary newspapers in lobby
Concierge services
Conference space
Designated smoking areas
Express check-in
Express check-out
Fireplace in lobby
Fitness facilities
Free breakfast
Free self parking
Garden
Library
Meeting rooms
Number of buildings/towers - 1
Number of floors - 2
Number of meeting rooms - 3
Picnic area
Spa services on site
Spa tub
Television in lobby
Total number of rooms - 12
Tours/ticket assistance
Use of nearby fitness center (complimentary)
Wedding services
Year Built1870
Alps Boulder Canyon Inn 201 Caribou
1 queen bed
Relax - Fireplace; in-room massage available
Entertainment - DVD player
Food & Drink - Refrigerator
Sleep - Pillowtop bed with premium bedding
Bathroom - Private bathroom with a separate bathtub and shower, designer toiletries, and a hair dryer
Non-Smoking

Room Amenities
Air conditioning
Ceiling fan
DVD player
Daily housekeeping
Designer toiletries
Desk
Fireplace
Free local calls
Hair dryer
Hypo-allergenic bedding available
In-room massage available
Individually decorated
Iron/ironing board
Phone
Pillowtop mattress
Premium bedding
Private bathroom
Refrigerator
Rollaway/extra beds available
Separate bathtub and shower
Television
Turndown service
Yard
Alps Boulder Canyon Inn 202 Sunset
1 queen bed
Relax - Fireplace; in-room massage available
Entertainment - DVD player
Food & Drink - Refrigerator
Sleep - Pillowtop bed with premium bedding
Bathroom - Private bathroom with a separate bathtub and shower, designer toiletries, and a hair dryer
Non-Smoking

Room Amenities
Air conditioning
Ceiling fan
DVD player
Daily housekeeping
Designer toiletries
Desk
Fireplace
Free local calls
Hair dryer
Hypo-allergenic bedding available
In-room massage available
Individually decorated
Iron/ironing board
Phone
Pillowtop mattress
Premium bedding
Private bathroom
Refrigerator
Rollaway/extra beds available
Separate bathtub and shower
Television
Turndown service
Yard
Alps Boulder Canyon Inn 203 Orodelafan
1 queen bed
Relax - Fireplace; in-room massage available
Entertainment - DVD player
Food & Drink - Refrigerator
Sleep - Pillowtop bed with premium bedding
Bathroom - Private bathroom with a separate bathtub and shower, designer toiletries, and a hair dryer
Non-Smoking

Room Amenities
Air conditioning
Ceiling fan
DVD player
Daily housekeeping
Designer toiletries
Desk
Fireplace
Free local calls
Hair dryer
Hypo-allergenic bedding available
In-room massage available
Individually decorated
Iron/ironing board
Phone
Pillowtop mattress
Premium bedding
Private bathroom
Refrigerator
Rollaway/extra beds available
Separate bathtub and shower
Television
Turndown service
Yard
Alps Boulder Canyon Inn 204 Sugarloaf
1 king bed
Relax - Fireplace; in-room massage available
Entertainment - DVD player
Food & Drink - Refrigerator
Sleep - Pillowtop bed with premium bedding
Bathroom - Private bathroom with a separate bathtub and shower, designer toiletries, and a hair dryer
Non-Smoking

Room Amenities
Air conditioning
Ceiling fan
DVD player
Daily housekeeping
Designer toiletries
Desk
Fireplace
Free local calls
Hair dryer
Hypo-allergenic bedding available
In-room massage available
Individually decorated
Iron/ironing board
Phone
Pillowtop mattress
Premium bedding
Private bathroom
Refrigerator
Rollaway/extra beds available
Separate bathtub and shower
Television
Turndown service
Yard
Alps Boulder Canyon Inn 205 Crisman
2 queen beds
Relax - Fireplace; in-room massage available
Entertainment - DVD player
Food & Drink - Refrigerator
Sleep - Pillowtop bed with premium bedding
Bathroom - Private bathroom with a separate bathtub and shower, designer toiletries, and a hair dryer
Non-Smoking

Room Amenities
Air conditioning
Ceiling fan
DVD player
Daily housekeeping
Designer toiletries
Desk
Fireplace
Free local calls
Hair dryer
Hypo-allergenic bedding available
In-room massage available
Individually decorated
Iron/ironing board
Phone
Pillowtop mattress
Premium bedding
Private bathroom
Refrigerator
Rollaway/extra beds available
Separate bathtub and shower
Television
Turndown service
Yard
Alps Boulder Canyon Inn 206 Wallstreet
1 king bed
Relax - Fireplace; in-room massage available
Entertainment - DVD player
Food & Drink - Refrigerator
Sleep - Pillowtop bed with premium bedding
Bathroom - Private bathroom with a separate bathtub and shower, designer toiletries, and a hair dryer
Non-Smoking

Room Amenities
Air conditioning
Ceiling fan
DVD player
Daily housekeeping
Designer toiletries
Desk
Fireplace
Free local calls
Hair dryer
Hypo-allergenic bedding available
In-room massage available
Individually decorated
Iron/ironing board
Phone
Pillowtop mattress
Premium bedding
Private bathroom
Refrigerator
Rollaway/extra beds available
Separate bathtub and shower
Television
Turndown service
Yard
Alps Boulder Canyon Inn 207 Goldhill
1 queen bed
Relax - Fireplace; in-room massage available
Entertainment - DVD player
Food & Drink - Refrigerator
Sleep - Pillowtop bed with premium bedding
Bathroom - Private bathroom with a separate bathtub and shower, designer toiletries, and a hair dryer
Non-Smoking

Room Amenities
Air conditioning
Ceiling fan
DVD player
Daily housekeeping
Designer toiletries
Desk
Fireplace
Free local calls
Hair dryer
Hypo-allergenic bedding available
In-room massage available
Individually decorated
Iron/ironing board
Phone
Pillowtop mattress
Premium bedding
Private bathroom
Refrigerator
Rollaway/extra beds available
Separate bathtub and shower
Television
Turndown service
Yard
Alps Boulder Canyon Inn 208 Summerville
1 king bed
Relax - Fireplace; in-room massage available
Entertainment - DVD player
Food & Drink - Refrigerator
Sleep - Pillowtop bed with premium bedding
Bathroom - Private bathroom with a separate bathtub and shower, designer toiletries, and a hair dryer
Non-Smoking

Room Amenities
Air conditioning
Ceiling fan
DVD player
Daily housekeeping
Designer toiletries
Desk
Fireplace
Free local calls
Hair dryer
Hypo-allergenic bedding available
In-room massage available
Individually decorated
Iron/ironing board
Phone
Pillowtop mattress
Premium bedding
Private bathroom
Refrigerator
Rollaway/extra beds available
Separate bathtub and shower
Television
Turndown service
Yard
Alps Boulder Canyon Inn 209 Magnolia
1 king bed
Relax - Fireplace; in-room massage available
Entertainment - DVD player
Food & Drink - Refrigerator
Sleep - Pillowtop bed with premium bedding
Bathroom - Private bathroom with a separate bathtub and shower, designer toiletries, and a hair dryer
Non-Smoking

Room Amenities
Air conditioning
Ceiling fan
DVD player
Daily housekeeping
Designer toiletries
Desk
Fireplace
Free local calls
Hair dryer
Hypo-allergenic bedding available
In-room massage available
Individually decorated
Iron/ironing board
Phone
Pillowtop mattress
Premium bedding
Private bathroom
Refrigerator
Rollaway/extra beds available
Separate bathtub and shower
Television
Turndown service
Yard
Alps Boulder Canyon Inn 210 Eldora
1 queen bed
Relax - Fireplace; in-room massage available
Entertainment - DVD player
Food & Drink - Refrigerator
Sleep - Pillowtop bed with premium bedding
Bathroom - Private bathroom with a separate bathtub and shower, designer toiletries, and a hair dryer
Non-Smoking

Room Amenities
Air conditioning
Ceiling fan
DVD player
Daily housekeeping
Designer toiletries
Desk
Fireplace
Free local calls
Hair dryer
Hypo-allergenic bedding available
In-room massage available
Individually decorated
Iron/ironing board
Phone
Pillowtop mattress
Premium bedding
Private bathroom
Refrigerator
Rollaway/extra beds available
Separate bathtub and shower
Television
Turndown service
Yard
Alps Boulder Canyon Inn 211 Sunshine
1 queen bed
Relax - Fireplace; in-room massage available
Entertainment - DVD player
Food & Drink - Refrigerator
Sleep - Pillowtop bed with premium bedding
Bathroom - Private bathroom with a separate bathtub and shower, designer toiletries, and a hair dryer
Non-Smoking

Room Amenities
Air conditioning
Ceiling fan
DVD player
Daily housekeeping
Designer toiletries
Desk
Fireplace
Free local calls
Hair dryer
Hypo-allergenic bedding available
In-room massage available
Individually decorated
Iron/ironing board
Phone
Pillowtop mattress
Premium bedding
Private bathroom
Refrigerator
Rollaway/extra beds available
Separate bathtub and shower
Television
Turndown service
Yard
Alps Boulder Canyon Inn 212 Salina
1 queen bed
Relax - Fireplace; in-room massage available
Entertainment - DVD player
Food & Drink - Refrigerator
Sleep - Pillowtop bed with premium bedding
Bathroom - Private bathroom with a separate bathtub and shower, designer toiletries, and a hair dryer
Non-Smoking

Room Amenities
Air conditioning
Ceiling fan
DVD player
Daily housekeeping
Designer toiletries
Desk
Fireplace
Free local calls
Hair dryer
Hypo-allergenic bedding available
In-room massage available
Individually decorated
Iron/ironing board
Phone
Pillowtop mattress
Premium bedding
Private bathroom
Refrigerator
Rollaway/extra beds available
Separate bathtub and shower
Television
Turndown service
Yard