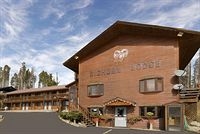 Americas Best Value Inn
613 GRAND AVENUE, Grand Lake, CO 80447
1.800.252.8197
Need Help?
Call 1.800.252.8197
About Americas Best Value Inn
Welcome to Americas Best Value Inn Bighorn Lodge/ located in Grand County/ Colorado. Formed by glaciers/ Grand Lake is a historic mountain town in the heart of the Colorado Rockies and the western gateway to majestic Rocky Mountain National Park. Our hotel is conveniently located in the center of Grand Lake/ minutes away from Rocky Mountain National Park/ where you can enjoy hiking/ backpacking/ bird watching/ camping/ wildlife viewing/ horseback riding/ mountain biking and fishing. Other nearby attractions include Sombrero Ranch Stables/ Kauffman House Museum/ and Grand Lake Art Gallery. Local restaurants include Rocky Mountain Coffee Co/ O - A Bistro/ and Grumpys. There are enough attractions in the area to keep you busy for a day/ a week/ or a month. .Start your day right with our free seasonal continental breakfast served daily from 8am - 10am during the months of June to September. Rest peacefully in one of our guest rooms with amenities such as free wireless high-speed Internet access/ microwave/ mini-fridge/ cable TV/ hairdryer/ air conditioning/ and free local calls. At Americas Best Value Inn Bighorn/ Weve Got You Covered from the time you hit the road until your head hits the pillow.
Our Low Price Hotel Guarantee
We are confident that our hotel prices are guaranteed to be the lowest rate you can find. If you find a lower rate for your hotel on another site, we'll refund the difference to you. Book with us and enjoy total peace of mind!
If you find a lower rate at any time up until hotel's cancellation window, we'll match the price. The lower price you find needs to be for the same dates, length of stay and room type.
---
Found a better price?
The lower price you found must be available on another website directed to consumers in the same locale, and must be for the same hotel, dates and room type.
If you used a coupon/discount voucher when you made your original booking, you can still claim under the guarantee. We will use the total discounted price you paid and compare this to the lower price you found in order to calculate your refund.
If you have made a booking which cannot be cancelled — whether it is non-refundable or if you are already within the cancellation window for the hotel — then you can't claim under the guarantee. Bookings that were part of a specific promotion (e.g. 3 nights for the price of 2) are also excluded from claiming under the guarantee.
Once we have confirmed that you are due a refund under the guarantee we will issue the refund to the card you paid with at the time of booking. We will process your refund immediately but it may take your bank up to 30 days to process it and for it to show on your statement.
Why book with us?
Denver.com doesn't charge cancellation fees
We're just a phone call away: 1.800.252.8197 or 00.800.1610.1690 (Europe)