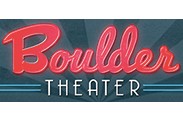 About Boulder Theater
A Historic/Independent Music, Film and Entertainment Venue.
Boulder's Top Choice in Live Entertainment for 75 Years!
Articles mentioning Boulder Theater
Bassist Keith Moseley, a founding member of the Boulder-based band The String Cheese Incidend, also holds down the low end for a few side projects.

Known for his playing with Colorado-based group Great American Taxi, keyboardist Chad Staehly recently formed a new band called the Hardworking Americans.