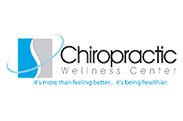 Edit
Chiropractic Wellness Center
4704 Harlan Street, #510
, Denver
, CO
80212
|
Directions
Hours:
Mon-Wed:
8:00 am - 6:00 pm
/
Fri:
8:00 am - 5:00 pm
/
About Chiropractic Wellness Center
We've been delivering quality chiropractic care to the Denver area since 1998. Our approach is simple. We believe that health is among our most valuable possessions.
We've been providing chiropractic care to the metro Denver area since 1998! We specialize in finding the cause of your pain and giving you fast relief. Our combination of chiropractic, acupuncture, and laser therapy will have you feeling your best as fast as possible.
Chiropractic Wellness Center Videos