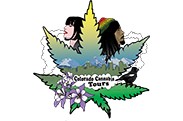 Edit
Colorado Cannabis Tours
Call or Visit Us Online!
, Denver
, CO
80202
|
Directions
Hours:
Mon-Fri:
8:00 am - 5:00 pm
/
About Colorado Cannabis Tours
Ready to Experience the World's First Legally Regulated Recreational Cannabis Industry?
Here at Colorado Cannabis Tours, we round up the best in the industry to provide you with an exclusive all-access pass to Colorado's Cannabis Lifestyle. From grow show tours to glass blowing demos, we've thought of everything to keep your experience ranked HIGH on your list of Best Vacations EVER!
Articles mentioning Colorado Cannabis Tours
With the passing of Amendment 64 and 2014 marking the first year for retail recreational marijuana sales for Colorado, visitors have an added reason to plan a vacation along the Front Range—marijuana tours.
Colorado Cannabis Tours Videos