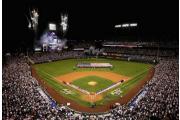 About Coors Field
Coors Field is home to the Colorado Rockie Major League Baseball team since 1995.
Tours of Coors Field are available Monday through Saturday during the season and then Monday, Wednesday, Friday and Saturday during the off-season and provide a behind-the-scenes look at one of the premier ballparks in Major League Baseball.

All tours begin at Gate C (21st & Blake Street). Tours typically last 70-80 minutes and cover a distance of approximately one mile. Private tours with young children typically last 45-60 minutes. All tours are accessible for guests with disabilities.
Articles mentioning Coors Field
Colorado Rockies games are a popular destination for visitors, diehard fans and casual spectators catching a post-work game. A few tips for visiting Coors Field can maximize the experience at games before, during and after the on-field action. Tickets Buying Rockies tickets in advance online can save time and energy before game. Attendees can also…

For those planning a spring or summer visit to Denver, there are several great and affordable hotels near Coors Field, home to the Colorado Rockies. Baseball season brings out the best in Denver's downtown, giving a new life to the bars and restaurants of LoDo. It is the perfect time to visit Denver to get…

The mountains that sit just west of Denver offer plenty of activities for outdoors enthusiasts, but the city itself is full of things to do and attractions. Art galleries, museums and niche neighborhoods draw thousands of visitors every year and many venues also have a strong local following.
Coors Field Videos