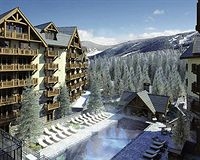 Four Seasons Resort Vail
1 Vail Rd, Vail, CO 81657
1.800.252.8197
About Four Seasons Resort Vail
Four Seasons Resort Vail is a Hotel business in Vail
Property Location
Located in Vail, Four Seasons Resort Vail is minutes from Vail Valley Medical Center and Cogswell Gallery. This 5-star resort is within close proximity of The Steadman Clinic and Colorado Ski and Snowboard Museum.
Rooms
Treat yourself to a stay in one of the 121 guestrooms, featuring fireplaces. Cable programming and DVD players are provided for your entertainment, while complimentary wireless Internet access keeps you connected. Conveniences include phones, as well as safes and complimentary newspapers.
Rec, Spa, Premium Amenities
Treat yourself with massages, body treatments, and facials. Skiers will be in heaven, but there are recreational options available for non-skiers as well, including a health club and an outdoor pool. Additional features include complimentary wireless Internet access, babysitting/childcare, and ski storage. Getting to nearby attractions is a breeze with the complimentary area shuttle.
Dining
Enjoy a satisfying meal at a restaurant serving guests of Four Seasons Resort Vail. Relax with your favorite drink at a bar/lounge or a poolside bar. Breakfast is available for a fee.
Business, Other Amenities
Featured amenities include a business center, a computer station, and complimentary newspapers in the lobby.
Four Seasons Resort Vail Amenities
Accessible bathroom
Accessible path of travel
Area shuttle (complimentary)
Babysitting or childcare
Bar/lounge
Breakfast available (surcharge)
Business center
Complimentary newspapers in lobby
Computer station
Elevator/lift
Free Wi-Fi
Health club
In-room accessibility
Meeting rooms
Multilingual staff
Number of floors - 8
Outdoor pool
Pets allowed
Poolside bar
Porter/bellhop
Restaurant
Safe-deposit box at front desk
Sauna
Ski storage
Smoke-free property
Spa treatment room(s)
Total number of rooms - 121
Valet parking (surcharge)
Four Seasons Resort Vail Garden View Room with two double beds
2 double beds
575-sq-foot (53-sq-meter) room, furnished balcony with garden views

Relax - Fireplace
Entertainment - Free WiFi, flat-screen TV with cable channels
Food & Drink - Refrigerator, minibar, and coffee/tea maker
Bathroom - Deep soaking bathtub and separate shower, bathrobes, and slippers
Non-Smoking

Room Amenities
Bathrobes
Bathtub only
Cable TV service
Coffee/tea maker
Complimentary newspaper
Cribs/infant beds available
DVD player
Designer toiletries
Down comforter
Fireplace
Free Wi-Fi
Hair dryer
Hypo-allergenic bedding available
In-room safe
Iron/ironing board
Minibar
Pay movies
Phone
Refrigerator
Rollaway/extra beds available
Room service
Slippers
Four Seasons Resort Vail Garden View Room with king bed
1 king bed
575-sq-foot (53-sq-meter) room, furnished balcony with garden views

Relax - Fireplace
Entertainment - Free WiFi, flat-screen TV with cable channels
Food & Drink - Refrigerator, minibar, and coffee/tea maker
Bathroom - Deep soaking bathtub and separate shower, bathrobes, and slippers
Non-Smoking

Room Amenities
Bathrobes
Bathtub only
Cable TV service
Coffee/tea maker
Complimentary newspaper
Cribs/infant beds available
DVD player
Designer toiletries
Down comforter
Fireplace
Free Wi-Fi
Hair dryer
Hypo-allergenic bedding available
In-room safe
Iron/ironing board
Minibar
Pay movies
Phone
Refrigerator
Rollaway/extra beds available
Room service
Slippers
Four Seasons Resort Vail Village View Room with two double beds
2 double beds
575-sq-foot (53-sq-meter) room with a furnished balcony

Relax - Fireplace
Entertainment - Free WiFi, 42-inch flat-screen TV with cable channels
Food & Drink - Refrigerator, minibar, and coffee/tea maker
Bathroom - Deep soaking bathtub and separate shower, bathrobes, and slippers
Non-Smoking

Room Amenities
Bathrobes
Bathtub only
Cable TV service
Coffee/tea maker
Complimentary newspaper
Cribs/infant beds available
DVD player
Designer toiletries
Down comforter
Fireplace
Free Wi-Fi
Hair dryer
Hypo-allergenic bedding available
In-room safe
Iron/ironing board
Minibar
Pay movies
Phone
Refrigerator
Rollaway/extra beds available
Room service
Slippers
Four Seasons Resort Vail Village View Room with king bed
1 king bed
575-sq-foot (53-sq-meter) room with a furnished balcony

Relax - Fireplace
Entertainment - Free WiFi, 42-inch flat-screen TV with cable channels
Food & Drink - Refrigerator, minibar, and coffee/tea maker
Bathroom - Deep soaking bathtub and separate shower, bathrobes, and slippers
Non-Smoking

Room Amenities
Bathrobes
Bathtub only
Cable TV service
Coffee/tea maker
Complimentary newspaper
Cribs/infant beds available
DVD player
Designer toiletries
Down comforter
Fireplace
Free Wi-Fi
Hair dryer
Hypo-allergenic bedding available
In-room safe
Iron/ironing board
Minibar
Pay movies
Phone
Refrigerator
Rollaway/extra beds available
Room service
Slippers
Four Seasons Resort Vail Village View Suite Non-Smoking
1 king bed
Relax - Fireplace
Entertainment - Free WiFi, cable channels, and pay movies
Food & Drink - Refrigerator, minibar, and coffee/tea maker
Bathroom - Bathtub, bathrobes, and slippers
Non-Smoking

Room Amenities
Bathrobes
Bathtub only
Cable TV service
Coffee/tea maker
Complimentary newspaper
Cribs/infant beds available
DVD player
Designer toiletries
Down comforter
Fireplace
Free Wi-Fi
Hair dryer
Hypo-allergenic bedding available
In-room safe
Iron/ironing board
Minibar
Pay movies
Phone
Refrigerator
Rollaway/extra beds available
Room service
Slippers
Four Seasons Resort Vail Mountain View Room with two double beds
2 double beds
575-sq-foot (53-sq-meter) room, furnished balcony with mountains views

Relax - Fireplace
Entertainment - Free WiFi, cable channels, and pay movies
Food & Drink - Refrigerator, minibar, and coffee/tea maker
Bathroom - Deep soaking bathtub and separate shower, bathrobes, and slippers
Non-Smoking

Room Amenities
Bathrobes
Bathtub only
Cable TV service
Coffee/tea maker
Complimentary newspaper
Cribs/infant beds available
DVD player
Designer toiletries
Down comforter
Fireplace
Free Wi-Fi
Hair dryer
Hypo-allergenic bedding available
In-room safe
Iron/ironing board
Minibar
Pay movies
Phone
Refrigerator
Rollaway/extra beds available
Room service
Slippers
Four Seasons Resort Vail Mountain View Room With King Bed
1 king bed
Furnished balcony with mountains views

Relax - Fireplace
Entertainment - Free WiFi, flat-screen TV with cable channels
Food & Drink - Refrigerator, minibar, and coffee/tea maker
Bathroom - Deep soaking bathtub and separate shower, bathrobes, and slippers
Non-Smoking

Room Amenities
Bathrobes
Bathtub only
Cable TV service
Coffee/tea maker
Complimentary newspaper
Cribs/infant beds available
DVD player
Designer toiletries
Down comforter
Fireplace
Free Wi-Fi
Hair dryer
Hypo-allergenic bedding available
In-room safe
Iron/ironing board
Minibar
Pay movies
Phone
Refrigerator
Rollaway/extra beds available
Room service
Slippers
Four Seasons Resort Vail Deluxe Two Double Beds Meadow View
2 double beds
575-sq-foot (53-sq-meter) room, furnished balcony with mountains views

Relax - Fireplace
Entertainment - Free WiFi, 42-inch flat-screen TV with cable channels
Food & Drink - Refrigerator, minibar, and coffee/tea maker
Bathroom - Deep soaking bathtub and separate shower, bathrobes, and bathrobes
Non-Smoking

Room Amenities
Bathrobes
Bathtub only
Cable TV service
Coffee/tea maker
Complimentary newspaper
Cribs/infant beds available
DVD player
Designer toiletries
Down comforter
Fireplace
Free Wi-Fi
Hair dryer
Hypo-allergenic bedding available
In-room safe
Iron/ironing board
Minibar
Pay movies
Phone
Refrigerator
Rollaway/extra beds available
Room service
Slippers
Four Seasons Resort Vail Deluxe Two Double Beds Meadow View
1 king bed
575-sq-foot (53-sq-meter) room, furnished balcony with mountains views

Relax - Fireplace
Entertainment - Free WiFi, 42-inch flat-screen TV with cable channels
Food & Drink - Refrigerator, minibar, and coffee/tea maker
Bathroom - Deep soaking bathtub and separate shower, bathrobes, and bathrobes
Practical - Cribs/infant beds available on request
Non-Smoking

Room Amenities
Bathrobes
Bathtub only
Cable TV service
Coffee/tea maker
Complimentary newspaper
Cribs/infant beds available
DVD player
Designer toiletries
Down comforter
Fireplace
Free Wi-Fi
Hair dryer
Hypo-allergenic bedding available
In-room safe
Iron/ironing board
Minibar
Pay movies
Phone
Refrigerator
Rollaway/extra beds available
Room service
Slippers
Four Seasons Resort Vail One King Bed Garden View Accessible
1 king bed
Relax - Fireplace
Entertainment - Free WiFi, cable channels, and pay movies
Food & Drink - Refrigerator, minibar, and coffee/tea maker
Bathroom - Bathtub, bathrobes, and slippers
Non-Smoking

Room Amenities
Bathrobes
Bathtub only
Cable TV service
Coffee/tea maker
Complimentary newspaper
Cribs/infant beds available
DVD player
Designer toiletries
Down comforter
Fireplace
Free Wi-Fi
Hair dryer
Hypo-allergenic bedding available
In-room safe
Iron/ironing board
Minibar
Pay movies
Phone
Refrigerator
Rollaway/extra beds available
Room service
Slippers
Four Seasons Resort Vail Two Double Beds Accessible
2 double beds
Relax - Fireplace
Entertainment - Free WiFi, cable channels, and pay movies
Food & Drink - Refrigerator, minibar, and coffee/tea maker
Bathroom - Bathtub, bathrobes, and slippers
Non-Smoking

Room Amenities
Bathrobes
Bathtub only
Cable TV service
Coffee/tea maker
Complimentary newspaper
Cribs/infant beds available
DVD player
Designer toiletries
Down comforter
Fireplace
Free Wi-Fi
Hair dryer
Hypo-allergenic bedding available
In-room safe
Iron/ironing board
Minibar
Pay movies
Phone
Refrigerator
Rollaway/extra beds available
Room service
Slippers
Four Seasons Resort Vail Mountain View Accessible Room double beds
2 double beds
Relax - Fireplace
Entertainment - Free WiFi, cable channels, and pay movies
Food & Drink - Refrigerator, minibar, and coffee/tea maker
Bathroom - Bathtub, bathrobes, and slippers
Non-Smoking

Room Amenities
Bathrobes
Bathtub only
Cable TV service
Coffee/tea maker
Complimentary newspaper
Cribs/infant beds available
DVD player
Designer toiletries
Down comforter
Fireplace
Free Wi-Fi
Hair dryer
Hypo-allergenic bedding available
In-room safe
Iron/ironing board
Minibar
Pay movies
Phone
Refrigerator
Rollaway/extra beds available
Room service
Slippers
Four Seasons Resort Vail One King Bed Mountain View Accessible
1 king bed
Relax - Fireplace
Entertainment - Free WiFi, cable channels, and pay movies
Food & Drink - Refrigerator, minibar, and coffee/tea maker
Bathroom - Bathtub, bathrobes, and slippers
Non-Smoking

Room Amenities
Bathrobes
Bathtub only
Cable TV service
Coffee/tea maker
Complimentary newspaper
Cribs/infant beds available
DVD player
Designer toiletries
Down comforter
Fireplace
Free Wi-Fi
Hair dryer
Hypo-allergenic bedding available
In-room safe
Iron/ironing board
Minibar
Pay movies
Phone
Refrigerator
Rollaway/extra beds available
Room service
Slippers
Four Seasons Resort Vail Mountain View Accessible
1 king bed
Relax - Fireplace
Entertainment - Free WiFi, cable channels, and pay movies
Food & Drink - Refrigerator, minibar, and coffee/tea maker
Bathroom - Bathtub, bathrobes, and slippers
Non-Smoking

Room Amenities
Bathrobes
Bathtub only
Cable TV service
Coffee/tea maker
Complimentary newspaper
Cribs/infant beds available
DVD player
Designer toiletries
Down comforter
Fireplace
Free Wi-Fi
Hair dryer
Hypo-allergenic bedding available
In-room safe
Iron/ironing board
Minibar
Pay movies
Phone
Refrigerator
Rollaway/extra beds available
Room service
Slippers
Four Seasons Resort Vail Two King Beds Garden View
2 king beds
Relax - Fireplace
Entertainment - Free WiFi, cable channels, and pay movies
Food & Drink - Refrigerator, minibar, and coffee/tea maker
Bathroom - Bathtub, bathrobes, and slippers
Non-Smoking

Room Amenities
Bathrobes
Bathtub only
Cable TV service
Coffee/tea maker
Complimentary newspaper
Cribs/infant beds available
DVD player
Designer toiletries
Down comforter
Fireplace
Free Wi-Fi
Hair dryer
Hypo-allergenic bedding available
In-room safe
Iron/ironing board
Minibar
Pay movies
Phone
Refrigerator
Rollaway/extra beds available
Room service
Slippers
Four Seasons Resort Vail Executive Suite One King Bed
1 king bed
Relax - Fireplace
Entertainment - Free WiFi, cable channels, and pay movies
Food & Drink - Refrigerator, minibar, and coffee/tea maker
Bathroom - Bathtub, bathrobes, and slippers
Non-Smoking

Room Amenities
Bathrobes
Bathtub only
Cable TV service
Coffee/tea maker
Complimentary newspaper
Cribs/infant beds available
DVD player
Designer toiletries
Down comforter
Fireplace
Free Wi-Fi
Hair dryer
Hypo-allergenic bedding available
In-room safe
Iron/ironing board
Minibar
Pay movies
Phone
Refrigerator
Rollaway/extra beds available
Room service
Slippers
Four Seasons Resort Vail Deluxe One King Bed Mountain View
1 king bed
Relax - Fireplace
Entertainment - Free WiFi, cable channels, and pay movies
Food & Drink - Refrigerator, minibar, and coffee/tea maker
Bathroom - Bathtub, bathrobes, and slippers
Non-Smoking

Room Amenities
Bathrobes
Bathtub only
Cable TV service
Coffee/tea maker
Complimentary newspaper
Cribs/infant beds available
DVD player
Designer toiletries
Down comforter
Fireplace
Free Wi-Fi
Hair dryer
Hypo-allergenic bedding available
In-room safe
Iron/ironing board
Minibar
Pay movies
Phone
Refrigerator
Rollaway/extra beds available
Room service
Slippers
Four Seasons Resort Vail Village View Suite One King Bed Accessible
1 king bed
Relax - Fireplace
Entertainment - Free WiFi, cable channels, and pay movies
Food & Drink - Refrigerator, minibar, and coffee/tea maker
Bathroom - Bathtub, bathrobes, and slippers
Non-Smoking

Room Amenities
Bathrobes
Bathtub only
Cable TV service
Coffee/tea maker
Complimentary newspaper
Cribs/infant beds available
DVD player
Designer toiletries
Down comforter
Fireplace
Free Wi-Fi
Hair dryer
Hypo-allergenic bedding available
In-room safe
Iron/ironing board
Minibar
Pay movies
Phone
Refrigerator
Rollaway/extra beds available
Room service
Slippers
Four Seasons Resort Vail Executive Suite One King Bed Mountain View
1 king bed
Relax - Fireplace
Entertainment - Free WiFi, cable channels, and pay movies
Food & Drink - Refrigerator, minibar, and coffee/tea maker
Bathroom - Bathtub, bathrobes, and slippers
Non-Smoking

Room Amenities
Bathrobes
Bathtub only
Cable TV service
Coffee/tea maker
Complimentary newspaper
Cribs/infant beds available
DVD player
Designer toiletries
Down comforter
Fireplace
Free Wi-Fi
Hair dryer
Hypo-allergenic bedding available
In-room safe
Iron/ironing board
Minibar
Pay movies
Phone
Refrigerator
Rollaway/extra beds available
Room service
Slippers
Four Seasons Resort Vail Deluxe One King Bed Mountain View
1 king bed
Relax - Fireplace
Entertainment - Free WiFi, cable channels, and pay movies
Food & Drink - Refrigerator, minibar, and coffee/tea maker
Bathroom - Bathtub, bathrobes, and slippers
Non-Smoking

Room Amenities
Bathrobes
Bathtub only
Cable TV service
Coffee/tea maker
Complimentary newspaper
Cribs/infant beds available
DVD player
Designer toiletries
Down comforter
Fireplace
Free Wi-Fi
Hair dryer
Hypo-allergenic bedding available
In-room safe
Iron/ironing board
Minibar
Pay movies
Phone
Refrigerator
Rollaway/extra beds available
Room service
Slippers
Four Seasons Resort Vail Two Bedroom Residence Village And Mountain View
2 king beds
Relax - Fireplace
Entertainment - Free WiFi, cable channels, and pay movies
Food & Drink - Refrigerator, minibar, and coffee/tea maker
Bathroom - Bathtub, bathrobes, and slippers
Non-Smoking

Room Amenities
Bathrobes
Bathtub only
Cable TV service
Coffee/tea maker
Complimentary newspaper
Cribs/infant beds available
DVD player
Designer toiletries
Down comforter
Fireplace
Free Wi-Fi
Hair dryer
Hypo-allergenic bedding available
In-room safe
Iron/ironing board
Minibar
Pay movies
Phone
Refrigerator
Rollaway/extra beds available
Room service
Slippers
Four Seasons Resort Vail Three Bedroom Residence Village And Mountain View
3 king beds
Relax - Fireplace
Entertainment - Free WiFi, cable channels, and pay movies
Food & Drink - Refrigerator, minibar, and coffee/tea maker
Bathroom - Bathtub, bathrobes, and slippers
Non-Smoking

Room Amenities
Bathrobes
Bathtub only
Cable TV service
Coffee/tea maker
Complimentary newspaper
Cribs/infant beds available
DVD player
Designer toiletries
Down comforter
Fireplace
Free Wi-Fi
Hair dryer
Hypo-allergenic bedding available
In-room safe
Iron/ironing board
Minibar
Pay movies
Phone
Refrigerator
Rollaway/extra beds available
Room service
Slippers
Four Seasons Resort Vail Two Bedroom with Den Residence
2 king beds
Relax - Fireplace
Entertainment - Free WiFi, cable channels, and pay movies
Food & Drink - Refrigerator, minibar, and coffee/tea maker
Bathroom - Bathtub, bathrobes, and slippers
Non-Smoking

Room Amenities
Bathrobes
Bathtub only
Cable TV service
Coffee/tea maker
Complimentary newspaper
Cribs/infant beds available
DVD player
Designer toiletries
Down comforter
Fireplace
Free Wi-Fi
Hair dryer
Hypo-allergenic bedding available
In-room safe
Iron/ironing board
Minibar
Pay movies
Phone
Refrigerator
Rollaway/extra beds available
Room service
Slippers
Four Seasons Resort Vail Three Bedroom with Den Residence
3 king beds
Relax - Fireplace
Entertainment - Free WiFi, cable channels, and pay movies
Food & Drink - Refrigerator, minibar, and coffee/tea maker
Bathroom - Bathtub, bathrobes, and slippers
Non-Smoking

Room Amenities
Bathrobes
Bathtub only
Cable TV service
Coffee/tea maker
Complimentary newspaper
Cribs/infant beds available
DVD player
Designer toiletries
Down comforter
Fireplace
Free Wi-Fi
Hair dryer
Hypo-allergenic bedding available
In-room safe
Iron/ironing board
Minibar
Pay movies
Phone
Refrigerator
Rollaway/extra beds available
Room service
Slippers
Four Seasons Resort Vail Three Bedroom Residence Garden View
1 king bed
Relax - Fireplace
Entertainment - Free WiFi, cable channels, and pay movies
Food & Drink - Refrigerator, minibar, and coffee/tea maker
Bathroom - Bathtub, bathrobes, and slippers
Non-Smoking

Room Amenities
Bathrobes
Bathtub only
Cable TV service
Coffee/tea maker
Complimentary newspaper
Cribs/infant beds available
DVD player
Designer toiletries
Down comforter
Fireplace
Free Wi-Fi
Hair dryer
Hypo-allergenic bedding available
In-room safe
Iron/ironing board
Minibar
Pay movies
Phone
Refrigerator
Rollaway/extra beds available
Room service
Slippers
Four Seasons Resort Vail Two King Beds, Mountain View
2 king beds
Relax - Fireplace
Entertainment - Free WiFi, cable channels, and pay movies
Food & Drink - Refrigerator, minibar, and coffee/tea maker
Bathroom - Bathtub, bathrobes, and slippers
Non-Smoking

Room Amenities
Bathrobes
Bathtub only
Cable TV service
Coffee/tea maker
Complimentary newspaper
Cribs/infant beds available
DVD player
Designer toiletries
Down comforter
Fireplace
Free Wi-Fi
Hair dryer
Hypo-allergenic bedding available
In-room safe
Iron/ironing board
Minibar
Pay movies
Phone
Refrigerator
Rollaway/extra beds available
Room service
Slippers
Four Seasons Resort Vail Two Bedroom With Den Residence
2 king beds
Relax - Fireplace
Entertainment - Free WiFi, cable channels, and pay movies
Food & Drink - Refrigerator, minibar, and coffee/tea maker
Bathroom - Bathtub, bathrobes, and slippers
Non-Smoking

Room Amenities
Bathrobes
Bathtub only
Cable TV service
Coffee/tea maker
Complimentary newspaper
Cribs/infant beds available
DVD player
Designer toiletries
Down comforter
Fireplace
Free Wi-Fi
Hair dryer
Hypo-allergenic bedding available
In-room safe
Iron/ironing board
Minibar
Pay movies
Phone
Refrigerator
Rollaway/extra beds available
Room service
Slippers
Four Seasons Resort Vail Two Bedroom Villa, Mountain View
2 king beds
Relax - Fireplace
Entertainment - Free WiFi, cable channels, and pay movies
Food & Drink - Refrigerator, minibar, and coffee/tea maker
Bathroom - Bathtub, bathrobes, and slippers
Non-Smoking

Room Amenities
Bathrobes
Bathtub only
Cable TV service
Coffee/tea maker
Complimentary newspaper
Cribs/infant beds available
DVD player
Designer toiletries
Down comforter
Fireplace
Free Wi-Fi
Hair dryer
Hypo-allergenic bedding available
In-room safe
Iron/ironing board
Minibar
Pay movies
Phone
Refrigerator
Rollaway/extra beds available
Room service
Slippers
Four Seasons Resort Vail Two Bedroom with Den Residence
2 king beds
Relax - Fireplace
Entertainment - Free WiFi, cable channels, and pay movies
Food & Drink - Refrigerator, minibar, and coffee/tea maker
Bathroom - Bathtub, bathrobes, and slippers
Non-Smoking

Room Amenities
Bathrobes
Bathtub only
Cable TV service
Coffee/tea maker
Complimentary newspaper
Cribs/infant beds available
DVD player
Designer toiletries
Down comforter
Fireplace
Free Wi-Fi
Hair dryer
Hypo-allergenic bedding available
In-room safe
Iron/ironing board
Minibar
Pay movies
Phone
Refrigerator
Rollaway/extra beds available
Room service
Slippers
Four Seasons Resort Vail Deluxe Mountain View Room With Double Beds
2 double beds
Relax - Fireplace
Entertainment - Free WiFi, cable channels, and pay movies
Food & Drink - Refrigerator, minibar, and coffee/tea maker
Bathroom - Bathtub, bathrobes, and slippers
Non-Smoking

Room Amenities
Bathrobes
Bathtub only
Cable TV service
Coffee/tea maker
Complimentary newspaper
Cribs/infant beds available
DVD player
Designer toiletries
Down comforter
Fireplace
Free Wi-Fi
Hair dryer
Hypo-allergenic bedding available
In-room safe
Iron/ironing board
Minibar
Pay movies
Phone
Refrigerator
Rollaway/extra beds available
Room service
Slippers
Four Seasons Resort Vail 0B
1 king bed
Relax - Fireplace
Entertainment - Free WiFi, cable channels, and pay movies
Food & Drink - Refrigerator, minibar, and coffee/tea maker
Bathroom - Bathtub, bathrobes, and slippers
Non-Smoking

Room Amenities
Bathrobes
Bathtub only
Cable TV service
Coffee/tea maker
Complimentary newspaper
Cribs/infant beds available
DVD player
Designer toiletries
Down comforter
Fireplace
Free Wi-Fi
Hair dryer
Hypo-allergenic bedding available
In-room safe
Iron/ironing board
Minibar
Pay movies
Phone
Refrigerator
Rollaway/extra beds available
Room service
Slippers
Four Seasons Resort Vail Deluxe Mountain View Room With King Beds
1 king bed
Relax - Fireplace
Entertainment - Free WiFi, cable channels, and pay movies
Food & Drink - Refrigerator, minibar, and coffee/tea maker
Bathroom - Bathtub, bathrobes, and slippers
Non-Smoking

Room Amenities
Bathrobes
Bathtub only
Cable TV service
Coffee/tea maker
Complimentary newspaper
Cribs/infant beds available
DVD player
Designer toiletries
Down comforter
Fireplace
Free Wi-Fi
Hair dryer
Hypo-allergenic bedding available
In-room safe
Iron/ironing board
Minibar
Pay movies
Phone
Refrigerator
Rollaway/extra beds available
Room service
Slippers
Four Seasons Resort Vail Deluxe Mountain View Accessible Room KIng
1 king bed
Relax - Fireplace
Entertainment - Free WiFi, cable channels, and pay movies
Food & Drink - Refrigerator, minibar, and coffee/tea maker
Bathroom - Bathtub, bathrobes, and slippers
Non-Smoking

Room Amenities
Bathrobes
Bathtub only
Cable TV service
Coffee/tea maker
Complimentary newspaper
Cribs/infant beds available
DVD player
Designer toiletries
Down comforter
Fireplace
Free Wi-Fi
Hair dryer
Hypo-allergenic bedding available
In-room safe
Iron/ironing board
Minibar
Pay movies
Phone
Refrigerator
Rollaway/extra beds available
Room service
Slippers
Four Seasons Resort Vail Room, 2 Double Beds, Mountain View
2 double beds
Relax - Fireplace
Entertainment - Free WiFi, cable channels, and pay movies
Food & Drink - Refrigerator, minibar, and coffee/tea maker
Bathroom - Bathtub, bathrobes, and slippers
Non-Smoking

Room Amenities
Bathrobes
Bathtub only
Cable TV service
Coffee/tea maker
Complimentary newspaper
Cribs/infant beds available
DVD player
Designer toiletries
Down comforter
Fireplace
Free Wi-Fi
Hair dryer
Hypo-allergenic bedding available
In-room safe
Iron/ironing board
Minibar
Pay movies
Phone
Refrigerator
Rollaway/extra beds available
Room service
Slippers
Four Seasons Resort Vail Deluxe Room
1 king bed
Relax - Fireplace
Entertainment - Free WiFi, cable channels, and pay movies
Food & Drink - Refrigerator, minibar, and coffee/tea maker
Bathroom - Bathtub, bathrobes, and slippers
Non-Smoking

Room Amenities
Bathrobes
Bathtub only
Cable TV service
Coffee/tea maker
Complimentary newspaper
Cribs/infant beds available
DVD player
Designer toiletries
Down comforter
Fireplace
Free Wi-Fi
Hair dryer
Hypo-allergenic bedding available
In-room safe
Iron/ironing board
Minibar
Pay movies
Phone
Refrigerator
Rollaway/extra beds available
Room service
Slippers
Four Seasons Resort Vail Deluxe Room
1 king bed
Relax - Fireplace
Entertainment - Free WiFi, cable channels, and pay movies
Food & Drink - Refrigerator, minibar, and coffee/tea maker
Bathroom - Bathtub, bathrobes, and slippers
Non-Smoking

Room Amenities
Bathrobes
Bathtub only
Cable TV service
Coffee/tea maker
Complimentary newspaper
Cribs/infant beds available
DVD player
Designer toiletries
Down comforter
Fireplace
Free Wi-Fi
Hair dryer
Hypo-allergenic bedding available
In-room safe
Iron/ironing board
Minibar
Pay movies
Phone
Refrigerator
Rollaway/extra beds available
Room service
Slippers
Four Seasons Resort Vail Double Room
2 double beds
Relax - Fireplace
Entertainment - Free WiFi, cable channels, and pay movies
Food & Drink - Refrigerator, minibar, and coffee/tea maker
Bathroom - Bathtub, bathrobes, and slippers
Non-Smoking

Room Amenities
Bathrobes
Bathtub only
Cable TV service
Coffee/tea maker
Complimentary newspaper
Cribs/infant beds available
DVD player
Designer toiletries
Down comforter
Fireplace
Free Wi-Fi
Hair dryer
Hypo-allergenic bedding available
In-room safe
Iron/ironing board
Minibar
Pay movies
Phone
Refrigerator
Rollaway/extra beds available
Room service
Slippers
Four Seasons Resort Vail Room, 2 Double Beds, Accessible, Mountain View
2 double beds
Relax - Fireplace
Entertainment - Free WiFi, cable channels, and pay movies
Food & Drink - Refrigerator, minibar, and coffee/tea maker
Bathroom - Bathtub, bathrobes, and slippers
Non-Smoking

Room Amenities
Bathrobes
Bathtub only
Cable TV service
Coffee/tea maker
Complimentary newspaper
Cribs/infant beds available
DVD player
Designer toiletries
Down comforter
Fireplace
Free Wi-Fi
Hair dryer
Hypo-allergenic bedding available
In-room safe
Iron/ironing board
Minibar
Pay movies
Phone
Refrigerator
Rollaway/extra beds available
Room service
Slippers
Four Seasons Resort Vail Deluxe Room, 2 Double Beds, Mountain View
2 double beds
Relax - Fireplace
Entertainment - Free WiFi, cable channels, and pay movies
Food & Drink - Refrigerator, minibar, and coffee/tea maker
Bathroom - Bathtub, bathrobes, and slippers
Non-Smoking

Room Amenities
Bathrobes
Bathtub only
Cable TV service
Coffee/tea maker
Complimentary newspaper
Cribs/infant beds available
DVD player
Designer toiletries
Down comforter
Fireplace
Free Wi-Fi
Hair dryer
Hypo-allergenic bedding available
In-room safe
Iron/ironing board
Minibar
Pay movies
Phone
Refrigerator
Rollaway/extra beds available
Room service
Slippers
Four Seasons Resort Vail Deluxe Room, 1 King Bed, Mountain View
1 king bed
Relax - Fireplace
Entertainment - Free WiFi, cable channels, and pay movies
Food & Drink - Refrigerator, minibar, and coffee/tea maker
Bathroom - Bathtub, bathrobes, and slippers
Non-Smoking

Room Amenities
Bathrobes
Bathtub only
Cable TV service
Coffee/tea maker
Complimentary newspaper
Cribs/infant beds available
DVD player
Designer toiletries
Down comforter
Fireplace
Free Wi-Fi
Hair dryer
Hypo-allergenic bedding available
In-room safe
Iron/ironing board
Minibar
Pay movies
Phone
Refrigerator
Rollaway/extra beds available
Room service
Slippers
Four Seasons Resort Vail Deluxe Room, 1 King Bed, Accessible, Mountain View
1 king bed
Relax - Fireplace
Entertainment - Free WiFi, cable channels, and pay movies
Food & Drink - Refrigerator, minibar, and coffee/tea maker
Bathroom - Bathtub, bathrobes, and slippers
Non-Smoking

Room Amenities
Bathrobes
Bathtub only
Cable TV service
Coffee/tea maker
Complimentary newspaper
Cribs/infant beds available
DVD player
Designer toiletries
Down comforter
Fireplace
Free Wi-Fi
Hair dryer
Hypo-allergenic bedding available
In-room safe
Iron/ironing board
Minibar
Pay movies
Phone
Refrigerator
Rollaway/extra beds available
Room service
Slippers
Four Seasons Resort Vail Suite, 1 King Bed, Accessible (Village View)
1 king bed
Relax - Fireplace
Entertainment - Free WiFi, cable channels, and pay movies
Food & Drink - Refrigerator, minibar, and coffee/tea maker
Bathroom - Bathtub, bathrobes, and slippers
Non-Smoking

Room Amenities
Bathrobes
Bathtub only
Cable TV service
Coffee/tea maker
Complimentary newspaper
Cribs/infant beds available
DVD player
Designer toiletries
Down comforter
Fireplace
Free Wi-Fi
Hair dryer
Hypo-allergenic bedding available
In-room safe
Iron/ironing board
Minibar
Pay movies
Phone
Refrigerator
Rollaway/extra beds available
Room service
Slippers
Four Seasons Resort Vail Suite, 1 King Bed (Village View )
1 king bed
Relax - Fireplace
Entertainment - Free WiFi, cable channels, and pay movies
Food & Drink - Refrigerator, minibar, and coffee/tea maker
Bathroom - Bathtub, bathrobes, and slippers
Non-Smoking

Room Amenities
Bathrobes
Bathtub only
Cable TV service
Coffee/tea maker
Complimentary newspaper
Cribs/infant beds available
DVD player
Designer toiletries
Down comforter
Fireplace
Free Wi-Fi
Hair dryer
Hypo-allergenic bedding available
In-room safe
Iron/ironing board
Minibar
Pay movies
Phone
Refrigerator
Rollaway/extra beds available
Room service
Slippers
Four Seasons Resort Vail Executive Suite, 1 King Bed (Village View)
1 king bed
Relax - Fireplace
Entertainment - Free WiFi, cable channels, and pay movies
Food & Drink - Refrigerator, minibar, and coffee/tea maker
Bathroom - Bathtub, bathrobes, and slippers
Non-Smoking

Room Amenities
Bathrobes
Bathtub only
Cable TV service
Coffee/tea maker
Complimentary newspaper
Cribs/infant beds available
DVD player
Designer toiletries
Down comforter
Fireplace
Free Wi-Fi
Hair dryer
Hypo-allergenic bedding available
In-room safe
Iron/ironing board
Minibar
Pay movies
Phone
Refrigerator
Rollaway/extra beds available
Room service
Slippers
Four Seasons Resort Vail Room, 2 Double Beds, Mountain View
2 double beds
Relax - Fireplace
Entertainment - Free WiFi, cable channels, and pay movies
Food & Drink - Refrigerator, minibar, and coffee/tea maker
Bathroom - Bathtub, bathrobes, and slippers
Non-Smoking

Room Amenities
Bathrobes
Bathtub only
Cable TV service
Coffee/tea maker
Complimentary newspaper
Cribs/infant beds available
DVD player
Designer toiletries
Down comforter
Fireplace
Free Wi-Fi
Hair dryer
Hypo-allergenic bedding available
In-room safe
Iron/ironing board
Minibar
Pay movies
Phone
Refrigerator
Rollaway/extra beds available
Room service
Slippers
Four Seasons Resort Vail Room, 2 Double Beds, Accessible, Mountain View
2 double beds
Relax - Fireplace
Entertainment - Free WiFi, cable channels, and pay movies
Food & Drink - Refrigerator, minibar, and coffee/tea maker
Bathroom - Bathtub, bathrobes, and slippers
Non-Smoking

Room Amenities
Bathrobes
Bathtub only
Cable TV service
Coffee/tea maker
Complimentary newspaper
Cribs/infant beds available
DVD player
Designer toiletries
Down comforter
Fireplace
Free Wi-Fi
Hair dryer
Hypo-allergenic bedding available
In-room safe
Iron/ironing board
Minibar
Pay movies
Phone
Refrigerator
Rollaway/extra beds available
Room service
Slippers
Four Seasons Resort Vail Room, 2 Double Beds, Accessible, Mountain View
2 double beds
Relax - Fireplace
Entertainment - Free WiFi, cable channels, and pay movies
Food & Drink - Refrigerator, minibar, and coffee/tea maker
Bathroom - Bathtub, bathrobes, and slippers
Non-Smoking

Room Amenities
Bathrobes
Bathtub only
Cable TV service
Coffee/tea maker
Complimentary newspaper
Cribs/infant beds available
DVD player
Designer toiletries
Down comforter
Fireplace
Free Wi-Fi
Hair dryer
Hypo-allergenic bedding available
In-room safe
Iron/ironing board
Minibar
Pay movies
Phone
Refrigerator
Rollaway/extra beds available
Room service
Slippers
Four Seasons Resort Vail Room, 2 Double Beds, Accessible, Mountain View
2 double beds
Relax - Fireplace
Entertainment - Free WiFi, cable channels, and pay movies
Food & Drink - Refrigerator, minibar, and coffee/tea maker
Bathroom - Bathtub, bathrobes, and slippers
Non-Smoking

Room Amenities
Bathrobes
Bathtub only
Cable TV service
Coffee/tea maker
Complimentary newspaper
Cribs/infant beds available
DVD player
Designer toiletries
Down comforter
Fireplace
Free Wi-Fi
Hair dryer
Hypo-allergenic bedding available
In-room safe
Iron/ironing board
Minibar
Pay movies
Phone
Refrigerator
Rollaway/extra beds available
Room service
Slippers
Four Seasons Resort Vail Four Bedroom Residence
1 king bed
Relax - Fireplace
Entertainment - Free WiFi, cable channels, and pay movies
Food & Drink - Refrigerator, minibar, and coffee/tea maker
Bathroom - Bathtub, bathrobes, and slippers
Non-Smoking

Room Amenities
Bathrobes
Bathtub only
Cable TV service
Coffee/tea maker
Complimentary newspaper
Cribs/infant beds available
DVD player
Designer toiletries
Down comforter
Fireplace
Free Wi-Fi
Hair dryer
Hypo-allergenic bedding available
In-room safe
Iron/ironing board
Minibar
Pay movies
Phone
Refrigerator
Rollaway/extra beds available
Room service
Slippers
Four Seasons Resort Vail Two King Beds, Garden View
2 king beds
Relax - Fireplace
Entertainment - Free WiFi, cable channels, and pay movies
Food & Drink - Refrigerator, minibar, and coffee/tea maker
Bathroom - Bathtub, bathrobes, and slippers
Non-Smoking

Room Amenities
Bathrobes
Bathtub only
Cable TV service
Coffee/tea maker
Complimentary newspaper
Cribs/infant beds available
DVD player
Designer toiletries
Down comforter
Fireplace
Free Wi-Fi
Hair dryer
Hypo-allergenic bedding available
In-room safe
Iron/ironing board
Minibar
Pay movies
Phone
Refrigerator
Rollaway/extra beds available
Room service
Slippers
Four Seasons Resort Vail Three King Beds, Mountain View
3 king beds
Relax - Fireplace
Entertainment - Free WiFi, cable channels, and pay movies
Food & Drink - Refrigerator, minibar, and coffee/tea maker
Bathroom - Bathtub, bathrobes, and slippers
Non-Smoking

Room Amenities
Bathrobes
Bathtub only
Cable TV service
Coffee/tea maker
Complimentary newspaper
Cribs/infant beds available
DVD player
Designer toiletries
Down comforter
Fireplace
Free Wi-Fi
Hair dryer
Hypo-allergenic bedding available
In-room safe
Iron/ironing board
Minibar
Pay movies
Phone
Refrigerator
Rollaway/extra beds available
Room service
Slippers
Four Seasons Resort Vail Three King Beds
3 king beds
Relax - Fireplace
Entertainment - Free WiFi, cable channels, and pay movies
Food & Drink - Refrigerator, minibar, and coffee/tea maker
Bathroom - Bathtub, bathrobes, and slippers
Non-Smoking

Room Amenities
Bathrobes
Bathtub only
Cable TV service
Coffee/tea maker
Complimentary newspaper
Cribs/infant beds available
DVD player
Designer toiletries
Down comforter
Fireplace
Free Wi-Fi
Hair dryer
Hypo-allergenic bedding available
In-room safe
Iron/ironing board
Minibar
Pay movies
Phone
Refrigerator
Rollaway/extra beds available
Room service
Slippers
Four Seasons Resort Vail Three Beds, Garden View
3 beds
Relax - Fireplace
Entertainment - Free WiFi, cable channels, and pay movies
Food & Drink - Refrigerator, minibar, and coffee/tea maker
Bathroom - Bathtub, bathrobes, and slippers
Non-Smoking

Room Amenities
Bathrobes
Bathtub only
Cable TV service
Coffee/tea maker
Complimentary newspaper
Cribs/infant beds available
DVD player
Designer toiletries
Down comforter
Fireplace
Free Wi-Fi
Hair dryer
Hypo-allergenic bedding available
In-room safe
Iron/ironing board
Minibar
Pay movies
Phone
Refrigerator
Rollaway/extra beds available
Room service
Slippers
Four Seasons Resort Vail Village View Executive Suite With King Bed
1 king bed
Relax - Fireplace
Entertainment - Free WiFi, cable channels, and pay movies
Food & Drink - Refrigerator, minibar, and coffee/tea maker
Bathroom - Bathtub, bathrobes, and slippers
Non-Smoking

Room Amenities
Bathrobes
Bathtub only
Cable TV service
Coffee/tea maker
Complimentary newspaper
Cribs/infant beds available
DVD player
Designer toiletries
Down comforter
Fireplace
Free Wi-Fi
Hair dryer
Hypo-allergenic bedding available
In-room safe
Iron/ironing board
Minibar
Pay movies
Phone
Refrigerator
Rollaway/extra beds available
Room service
Slippers
Four Seasons Resort Vail Deluxe, One King Bed, Mountain View
1 king bed
Relax - Fireplace
Entertainment - Free WiFi, cable channels, and pay movies
Food & Drink - Refrigerator, minibar, and coffee/tea maker
Bathroom - Bathtub, bathrobes, and slippers
Non-Smoking

Room Amenities
Bathrobes
Bathtub only
Cable TV service
Coffee/tea maker
Complimentary newspaper
Cribs/infant beds available
DVD player
Designer toiletries
Down comforter
Fireplace
Free Wi-Fi
Hair dryer
Hypo-allergenic bedding available
In-room safe
Iron/ironing board
Minibar
Pay movies
Phone
Refrigerator
Rollaway/extra beds available
Room service
Slippers
Four Seasons Resort Vail Executive Suite, One King Bed, Mountain View
1 king bed
Relax - Fireplace
Entertainment - Free WiFi, cable channels, and pay movies
Food & Drink - Refrigerator, minibar, and coffee/tea maker
Bathroom - Bathtub, bathrobes, and slippers
Non-Smoking

Room Amenities
Bathrobes
Bathtub only
Cable TV service
Coffee/tea maker
Complimentary newspaper
Cribs/infant beds available
DVD player
Designer toiletries
Down comforter
Fireplace
Free Wi-Fi
Hair dryer
Hypo-allergenic bedding available
In-room safe
Iron/ironing board
Minibar
Pay movies
Phone
Refrigerator
Rollaway/extra beds available
Room service
Slippers
Four Seasons Resort Vail Suite, One King Bed
1 king bed
Relax - Fireplace
Entertainment - Free WiFi, cable channels, and pay movies
Food & Drink - Refrigerator, minibar, and coffee/tea maker
Bathroom - Bathtub, bathrobes, and slippers
Non-Smoking

Room Amenities
Bathrobes
Bathtub only
Cable TV service
Coffee/tea maker
Complimentary newspaper
Cribs/infant beds available
DVD player
Designer toiletries
Down comforter
Fireplace
Free Wi-Fi
Hair dryer
Hypo-allergenic bedding available
In-room safe
Iron/ironing board
Minibar
Pay movies
Phone
Refrigerator
Rollaway/extra beds available
Room service
Slippers
Four Seasons Resort Vail Suite, One King Bed, Accessible
1 king bed
Relax - Fireplace
Entertainment - Free WiFi, cable channels, and pay movies
Food & Drink - Refrigerator, minibar, and coffee/tea maker
Bathroom - Bathtub, bathrobes, and slippers
Non-Smoking

Room Amenities
Bathrobes
Bathtub only
Cable TV service
Coffee/tea maker
Complimentary newspaper
Cribs/infant beds available
DVD player
Designer toiletries
Down comforter
Fireplace
Free Wi-Fi
Hair dryer
Hypo-allergenic bedding available
In-room safe
Iron/ironing board
Minibar
Pay movies
Phone
Refrigerator
Rollaway/extra beds available
Room service
Slippers
Four Seasons Resort Vail Deluxe Suite, 1 King Bed, Mountain View
1 king bed
Relax - Fireplace
Entertainment - Free WiFi, cable channels, and pay movies
Food & Drink - Refrigerator, minibar, and coffee/tea maker
Bathroom - Bathtub, bathrobes, and slippers
Non-Smoking

Room Amenities
Bathrobes
Bathtub only
Cable TV service
Coffee/tea maker
Complimentary newspaper
Cribs/infant beds available
DVD player
Designer toiletries
Down comforter
Fireplace
Free Wi-Fi
Hair dryer
Hypo-allergenic bedding available
In-room safe
Iron/ironing board
Minibar
Pay movies
Phone
Refrigerator
Rollaway/extra beds available
Room service
Slippers
Four Seasons Resort Vail Executive Suite, 1 King Bed, Mountain View
1 king bed
Relax - Fireplace
Entertainment - Free WiFi, cable channels, and pay movies
Food & Drink - Refrigerator, minibar, and coffee/tea maker
Bathroom - Bathtub, bathrobes, and slippers
Non-Smoking

Room Amenities
Bathrobes
Bathtub only
Cable TV service
Coffee/tea maker
Complimentary newspaper
Cribs/infant beds available
DVD player
Designer toiletries
Down comforter
Fireplace
Free Wi-Fi
Hair dryer
Hypo-allergenic bedding available
In-room safe
Iron/ironing board
Minibar
Pay movies
Phone
Refrigerator
Rollaway/extra beds available
Room service
Slippers
Four Seasons Resort Vail Suite, 1 King Bed, View
1 king bed
Relax - Fireplace
Entertainment - Free WiFi, cable channels, and pay movies
Food & Drink - Refrigerator, minibar, and coffee/tea maker
Bathroom - Bathtub, bathrobes, and slippers
Non-Smoking

Room Amenities
Bathrobes
Bathtub only
Cable TV service
Coffee/tea maker
Complimentary newspaper
Cribs/infant beds available
DVD player
Designer toiletries
Down comforter
Fireplace
Free Wi-Fi
Hair dryer
Hypo-allergenic bedding available
In-room safe
Iron/ironing board
Minibar
Pay movies
Phone
Refrigerator
Rollaway/extra beds available
Room service
Slippers
Four Seasons Resort Vail Suite, 1 King Bed, Accessible, View
1 king bed
Relax - Fireplace
Entertainment - Free WiFi, cable channels, and pay movies
Food & Drink - Refrigerator, minibar, and coffee/tea maker
Bathroom - Bathtub, bathrobes, and slippers
Non-Smoking

Room Amenities
Bathrobes
Bathtub only
Cable TV service
Coffee/tea maker
Complimentary newspaper
Cribs/infant beds available
DVD player
Designer toiletries
Down comforter
Fireplace
Free Wi-Fi
Hair dryer
Hypo-allergenic bedding available
In-room safe
Iron/ironing board
Minibar
Pay movies
Phone
Refrigerator
Rollaway/extra beds available
Room service
Slippers
Four Seasons Resort Vail Room, 2 Double Beds
2 double beds
Relax - Fireplace
Entertainment - Free WiFi, cable channels, and pay movies
Food & Drink - Refrigerator, minibar, and coffee/tea maker
Bathroom - Bathtub, bathrobes, and slippers
Non-Smoking

Room Amenities
Bathrobes
Bathtub only
Cable TV service
Coffee/tea maker
Complimentary newspaper
Cribs/infant beds available
DVD player
Designer toiletries
Down comforter
Fireplace
Free Wi-Fi
Hair dryer
Hypo-allergenic bedding available
In-room safe
Iron/ironing board
Minibar
Pay movies
Phone
Refrigerator
Rollaway/extra beds available
Room service
Slippers
Four Seasons Resort Vail Room, 1 King Bed
1 king bed
Relax - Fireplace
Entertainment - Free WiFi, cable channels, and pay movies
Food & Drink - Refrigerator, minibar, and coffee/tea maker
Bathroom - Bathtub, bathrobes, and slippers
Non-Smoking

Room Amenities
Bathrobes
Bathtub only
Cable TV service
Coffee/tea maker
Complimentary newspaper
Cribs/infant beds available
DVD player
Designer toiletries
Down comforter
Fireplace
Free Wi-Fi
Hair dryer
Hypo-allergenic bedding available
In-room safe
Iron/ironing board
Minibar
Pay movies
Phone
Refrigerator
Rollaway/extra beds available
Room service
Slippers
Four Seasons Resort Vail Room, 1 King Bed, Mountain View
1 king bed
Relax - Fireplace
Entertainment - Free WiFi, cable channels, and pay movies
Food & Drink - Refrigerator, minibar, and coffee/tea maker
Bathroom - Bathtub, bathrobes, and slippers
Non-Smoking

Room Amenities
Bathrobes
Bathtub only
Cable TV service
Coffee/tea maker
Complimentary newspaper
Cribs/infant beds available
DVD player
Designer toiletries
Down comforter
Fireplace
Free Wi-Fi
Hair dryer
Hypo-allergenic bedding available
In-room safe
Iron/ironing board
Minibar
Pay movies
Phone
Refrigerator
Rollaway/extra beds available
Room service
Slippers
Four Seasons Resort Vail Room, 1 King Bed, Accessible, Mountain View
1 king bed
Relax - Fireplace
Entertainment - Free WiFi, cable channels, and pay movies
Food & Drink - Refrigerator, minibar, and coffee/tea maker
Bathroom - Bathtub, bathrobes, and slippers
Non-Smoking

Room Amenities
Bathrobes
Bathtub only
Cable TV service
Coffee/tea maker
Complimentary newspaper
Cribs/infant beds available
DVD player
Designer toiletries
Down comforter
Fireplace
Free Wi-Fi
Hair dryer
Hypo-allergenic bedding available
In-room safe
Iron/ironing board
Minibar
Pay movies
Phone
Refrigerator
Rollaway/extra beds available
Room service
Slippers