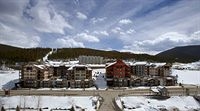 Fraser Crossing / Founders Pointe
670 Winter Park Drive, Winter Park, CO 80482
1.800.252.8197
About Fraser Crossing / Founders Pointe
Fraser Crossing / Founders Pointe is a Hotel business in Winter Park
Property Location
When you stay at Fraser Crossing / Founders Pointe in Winter Park, you'll be minutes from Winter Park Ski Resort. This ski condo is within the region of St. Mary's Glacier and Eldora Mountain Resort.
Rooms
Treat yourself to a stay in one of the 195 guestrooms, featuring fireplaces. Complimentary wireless Internet access is available to keep you connected. Conveniences include separate sitting areas and microwaves, as well as phones with free local calls.
Rec, Spa, Premium Amenities
After a day on the slopes, relax in one of the 2 spa tubs. Additional amenities include complimentary wireless Internet access, ski storage, and barbecue grills.
Business, Other Amenities
Featured amenities include a 24-hour front desk, laundry facilities, and a safe deposit box at the front desk. Self parking (subject to charges) is available onsite.
Fraser Crossing / Founders Pointe Amenities
24-hour front desk
Barbecue grill(s)
Elevator/lift
Free Wi-Fi
Free parking nearby
Laundry facilities
Number of floors - 6
Number of spa tubs - 2
Safe-deposit box at front desk
Self parking (surcharge)
Ski storage
Smoke-free property
Total number of rooms - 195
Fraser Crossing / Founders Pointe Studio Silver
1 king and 1 sofa bed
Overlooking the garden

Relax - Fireplace
Entertainment - Free WiFi, flat-screen TV with cable channels
Food & Drink - Microwave and coffee/tea maker
Sleep - Premium bedding and a sofa bed
Bathroom - Private bathroom with a hair dryer
Practical - Sitting area and free local calls
Need to Know - Limited housekeeping
Non-Smoking

Room Amenities
Ceiling fan
Coffee/tea maker
Cookware, dishware, and utensils
Cribs/infant beds available
Dishwasher
Fireplace
Free Wi-Fi
Free local calls
Hair dryer
Housekeeping - once per stay
Iron/ironing board
Microwave
Phone
Premium bedding
Private bathroom
Separate sitting area
Sofa bed
Stovetop
Fraser Crossing / Founders Pointe One Bedroom Suite
1 king bed or 1 sofa bed
Relax - Fireplace
Entertainment - Free WiFi, flat-screen TV with cable channels
Food & Drink - Microwave and coffee/tea maker
Sleep - Premium bedding and a sofa bed
Bathroom - Private bathroom with a hair dryer
Practical - Sitting area and free local calls
Need to Know - Limited housekeeping
Non-Smoking

Room Amenities
Ceiling fan
Coffee/tea maker
Cookware, dishware, and utensils
Cribs/infant beds available
Dishwasher
Fireplace
Free Wi-Fi
Free local calls
Hair dryer
Housekeeping - once per stay
Iron/ironing board
Microwave
Phone
Premium bedding
Private bathroom
Separate sitting area
Sofa bed
Stovetop
Fraser Crossing / Founders Pointe Two Bedroom Suite
1 king bed or 1 queen bed or 1 sofa bed
Features a private balcony

Relax - Fireplace
Entertainment - Free WiFi, flat-screen TV with cable channels
Food & Drink - Microwave and coffee/tea maker
Sleep - Premium bedding and a sofa bed
Bathroom - Private bathroom with a hair dryer
Practical - Sitting area and free local calls
Need to Know - Limited housekeeping
Non-Smoking

Room Amenities
Ceiling fan
Coffee/tea maker
Cookware, dishware, and utensils
Cribs/infant beds available
Dishwasher
Fireplace
Free Wi-Fi
Free local calls
Hair dryer
Housekeeping - once per stay
Iron/ironing board
Microwave
Phone
Premium bedding
Private bathroom
Separate sitting area
Sofa bed
Stovetop
Fraser Crossing / Founders Pointe One Bedroom with Kitchenette Suite
1 king bed or 1 sofa bed
Features a private balcony

Relax - Fireplace
Entertainment - Free WiFi, flat-screen TV with cable channels
Food & Drink - Microwave and coffee/tea maker
Sleep - Premium bedding and a sofa bed
Bathroom - Private bathroom with a hair dryer
Practical - Sitting area and free local calls
Need to Know - Limited housekeeping
Non-Smoking

Room Amenities
Ceiling fan
Coffee/tea maker
Cookware, dishware, and utensils
Cribs/infant beds available
Dishwasher
Fireplace
Free Wi-Fi
Free local calls
Hair dryer
Housekeeping - once per stay
Iron/ironing board
Microwave
Phone
Premium bedding
Private bathroom
Separate sitting area
Sofa bed
Stovetop
Fraser Crossing / Founders Pointe Premium Two Bedroom with View
2 beds
Relax - Fireplace
Entertainment - Free WiFi
Food & Drink - Microwave and coffee/tea maker
Sleep - Premium bedding and a sofa bed
Bathroom - Private bathroom with a hair dryer
Practical - Sitting area and free local calls
Need to Know - Limited housekeeping
Non-Smoking

Room Amenities
Ceiling fan
Coffee/tea maker
Cookware, dishware, and utensils
Cribs/infant beds available
Dishwasher
Fireplace
Free Wi-Fi
Free local calls
Hair dryer
Housekeeping - once per stay
Iron/ironing board
Microwave
Phone
Premium bedding
Private bathroom
Separate sitting area
Sofa bed
Stovetop
Fraser Crossing / Founders Pointe Studio Gold
1 king and 1 sofa bed
Overlooking the garden

Relax - Fireplace
Entertainment - Free WiFi
Food & Drink - Microwave and coffee/tea maker
Sleep - Premium bedding and a sofa bed
Bathroom - Private bathroom with a hair dryer
Practical - Sitting area and free local calls
Need to Know - Limited housekeeping
Non-Smoking

Room Amenities
Ceiling fan
Coffee/tea maker
Cookware, dishware, and utensils
Cribs/infant beds available
Dishwasher
Fireplace
Free Wi-Fi
Free local calls
Hair dryer
Housekeeping - once per stay
Iron/ironing board
Microwave
Phone
Premium bedding
Private bathroom
Separate sitting area
Sofa bed
Stovetop
Fraser Crossing / Founders Pointe Studio Platinum
1 king and 1 sofa bed
Overlooking the garden

Relax - Fireplace
Entertainment - Free WiFi
Food & Drink - Microwave and coffee/tea maker
Sleep - Premium bedding and a sofa bed
Bathroom - Private bathroom with a hair dryer
Practical - Sitting area and free local calls
Need to Know - Limited housekeeping
Non-Smoking

Room Amenities
Ceiling fan
Coffee/tea maker
Cookware, dishware, and utensils
Cribs/infant beds available
Dishwasher
Fireplace
Free Wi-Fi
Free local calls
Hair dryer
Housekeeping - once per stay
Iron/ironing board
Microwave
Phone
Premium bedding
Private bathroom
Separate sitting area
Sofa bed
Stovetop
Fraser Crossing / Founders Pointe 1 Bedroom Full Kitchen Platinum
1 king and 1 sofa bed
Relax - Fireplace
Entertainment - Free WiFi
Food & Drink - Microwave and coffee/tea maker
Sleep - Premium bedding and a sofa bed
Bathroom - Private bathroom with a hair dryer
Practical - Sitting area and free local calls
Need to Know - Limited housekeeping
Non-Smoking

Room Amenities
Ceiling fan
Coffee/tea maker
Cookware, dishware, and utensils
Cribs/infant beds available
Dishwasher
Fireplace
Free Wi-Fi
Free local calls
Hair dryer
Housekeeping - once per stay
Iron/ironing board
Microwave
Phone
Premium bedding
Private bathroom
Separate sitting area
Sofa bed
Stovetop
Fraser Crossing / Founders Pointe 1 Bedroom, Kitchenette (Silver)
1 king and 1 sofa bed
Relax - Fireplace
Entertainment - Free WiFi
Food & Drink - Microwave and coffee/tea maker
Sleep - Premium bedding and a sofa bed
Bathroom - Private bathroom with a hair dryer
Practical - Sitting area and free local calls
Need to Know - Limited housekeeping
Non-Smoking

Room Amenities
Ceiling fan
Coffee/tea maker
Cookware, dishware, and utensils
Cribs/infant beds available
Dishwasher
Fireplace
Free Wi-Fi
Free local calls
Hair dryer
Housekeeping - once per stay
Iron/ironing board
Microwave
Phone
Premium bedding
Private bathroom
Separate sitting area
Sofa bed
Stovetop
Fraser Crossing / Founders Pointe 2 Bedroom Silver
1 sofa bed or 1 king and 1 queen bed
Relax - Fireplace
Entertainment - Free WiFi
Food & Drink - Microwave and coffee/tea maker
Sleep - Premium bedding and a sofa bed
Bathroom - Private bathroom with a hair dryer
Practical - Sitting area and free local calls
Need to Know - Limited housekeeping
Non-Smoking

Room Amenities
Ceiling fan
Coffee/tea maker
Cookware, dishware, and utensils
Cribs/infant beds available
Dishwasher
Fireplace
Free Wi-Fi
Free local calls
Hair dryer
Housekeeping - once per stay
Iron/ironing board
Microwave
Phone
Premium bedding
Private bathroom
Separate sitting area
Sofa bed
Stovetop
Fraser Crossing / Founders Pointe 1 Bedroom, Kitchenette (Gold)
1 king and 1 sofa bed
Relax - Fireplace
Entertainment - Free WiFi
Food & Drink - Microwave and coffee/tea maker
Sleep - Premium bedding and a sofa bed
Bathroom - Private bathroom with a hair dryer
Practical - Sitting area and free local calls
Need to Know - Limited housekeeping
Non-Smoking

Room Amenities
Ceiling fan
Coffee/tea maker
Cookware, dishware, and utensils
Cribs/infant beds available
Dishwasher
Fireplace
Free Wi-Fi
Free local calls
Hair dryer
Housekeeping - once per stay
Iron/ironing board
Microwave
Phone
Premium bedding
Private bathroom
Separate sitting area
Sofa bed
Stovetop
Fraser Crossing / Founders Pointe 1 Bedroom Efficiency Platinum
1 king and 1 sofa bed
Relax - Fireplace
Entertainment - Free WiFi
Food & Drink - Microwave and coffee/tea maker
Sleep - Premium bedding and a sofa bed
Bathroom - Private bathroom with a hair dryer
Practical - Sitting area and free local calls
Need to Know - Limited housekeeping
Non-Smoking

Room Amenities
Ceiling fan
Coffee/tea maker
Cookware, dishware, and utensils
Cribs/infant beds available
Dishwasher
Fireplace
Free Wi-Fi
Free local calls
Hair dryer
Housekeeping - once per stay
Iron/ironing board
Microwave
Phone
Premium bedding
Private bathroom
Separate sitting area
Sofa bed
Stovetop
Fraser Crossing / Founders Pointe 3 Bedroom Silver
1 king bed or 2 queen and 1 sofa bed
Relax - Fireplace
Entertainment - Free WiFi
Food & Drink - Microwave and coffee/tea maker
Sleep - Premium bedding and a sofa bed
Bathroom - Private bathroom with a hair dryer
Practical - Sitting area and free local calls
Need to Know - Limited housekeeping
Non-Smoking

Room Amenities
Ceiling fan
Coffee/tea maker
Cookware, dishware, and utensils
Cribs/infant beds available
Dishwasher
Fireplace
Free Wi-Fi
Free local calls
Hair dryer
Housekeeping - once per stay
Iron/ironing board
Microwave
Phone
Premium bedding
Private bathroom
Separate sitting area
Sofa bed
Stovetop
Fraser Crossing / Founders Pointe 1 Bedroom Full Kitchen Silver
1 king and 1 sofa bed
Relax - Fireplace
Entertainment - Free WiFi
Food & Drink - Microwave and coffee/tea maker
Sleep - Premium bedding and a sofa bed
Bathroom - Private bathroom with a hair dryer
Practical - Sitting area and free local calls
Need to Know - Limited housekeeping
Non-Smoking

Room Amenities
Ceiling fan
Coffee/tea maker
Cookware, dishware, and utensils
Cribs/infant beds available
Dishwasher
Fireplace
Free Wi-Fi
Free local calls
Hair dryer
Housekeeping - once per stay
Iron/ironing board
Microwave
Phone
Premium bedding
Private bathroom
Separate sitting area
Sofa bed
Stovetop
Fraser Crossing / Founders Pointe 1 Bedroom Full Kitchen Gold
1 king and 1 sofa bed
Relax - Fireplace
Entertainment - Free WiFi
Food & Drink - Microwave and coffee/tea maker
Sleep - Premium bedding and a sofa bed
Bathroom - Private bathroom with a hair dryer
Practical - Sitting area and free local calls
Need to Know - Limited housekeeping
Non-Smoking

Room Amenities
Ceiling fan
Coffee/tea maker
Cookware, dishware, and utensils
Cribs/infant beds available
Dishwasher
Fireplace
Free Wi-Fi
Free local calls
Hair dryer
Housekeeping - once per stay
Iron/ironing board
Microwave
Phone
Premium bedding
Private bathroom
Separate sitting area
Sofa bed
Stovetop
Fraser Crossing / Founders Pointe 2 Bedroom Suite Gold
1 sofa bed or 1 king and 1 queen bed
Relax - Fireplace
Entertainment - Free WiFi
Food & Drink - Microwave and coffee/tea maker
Sleep - Premium bedding and a sofa bed
Bathroom - Private bathroom with a hair dryer
Practical - Sitting area and free local calls
Need to Know - Limited housekeeping
Non-Smoking

Room Amenities
Ceiling fan
Coffee/tea maker
Cookware, dishware, and utensils
Cribs/infant beds available
Dishwasher
Fireplace
Free Wi-Fi
Free local calls
Hair dryer
Housekeeping - once per stay
Iron/ironing board
Microwave
Phone
Premium bedding
Private bathroom
Separate sitting area
Sofa bed
Stovetop
Fraser Crossing / Founders Pointe 2 Bedroom Suite Platinum
1 sofa bed or 1 king and 1 queen bed
Relax - Fireplace
Entertainment - Free WiFi
Food & Drink - Microwave and coffee/tea maker
Sleep - Premium bedding and a sofa bed
Bathroom - Private bathroom with a hair dryer
Practical - Sitting area and free local calls
Need to Know - Limited housekeeping
Non-Smoking

Room Amenities
Ceiling fan
Coffee/tea maker
Cookware, dishware, and utensils
Cribs/infant beds available
Dishwasher
Fireplace
Free Wi-Fi
Free local calls
Hair dryer
Housekeeping - once per stay
Iron/ironing board
Microwave
Phone
Premium bedding
Private bathroom
Separate sitting area
Sofa bed
Stovetop
Fraser Crossing / Founders Pointe 3 Bedroom Suite Silver
1 king bed or 2 queen and 1 sofa bed
Relax - Fireplace
Entertainment - Free WiFi
Food & Drink - Microwave and coffee/tea maker
Sleep - Premium bedding and a sofa bed
Bathroom - Private bathroom with a hair dryer
Practical - Sitting area and free local calls
Need to Know - Limited housekeeping
Non-Smoking

Room Amenities
Ceiling fan
Coffee/tea maker
Cookware, dishware, and utensils
Cribs/infant beds available
Dishwasher
Fireplace
Free Wi-Fi
Free local calls
Hair dryer
Housekeeping - once per stay
Iron/ironing board
Microwave
Phone
Premium bedding
Private bathroom
Separate sitting area
Sofa bed
Stovetop
Fraser Crossing / Founders Pointe 3 Bedroom Suite Gold
1 king bed or 2 queen and 1 sofa bed
Relax - Fireplace
Entertainment - Free WiFi
Food & Drink - Microwave and coffee/tea maker
Sleep - Premium bedding and a sofa bed
Bathroom - Private bathroom with a hair dryer
Practical - Sitting area and free local calls
Need to Know - Limited housekeeping
Non-Smoking

Room Amenities
Ceiling fan
Coffee/tea maker
Cookware, dishware, and utensils
Cribs/infant beds available
Dishwasher
Fireplace
Free Wi-Fi
Free local calls
Hair dryer
Housekeeping - once per stay
Iron/ironing board
Microwave
Phone
Premium bedding
Private bathroom
Separate sitting area
Sofa bed
Stovetop
Fraser Crossing / Founders Pointe 3 Bedroom Suite Platinum
1 king bed or 2 queen and 1 sofa bed
Relax - Fireplace
Entertainment - Free WiFi
Food & Drink - Microwave and coffee/tea maker
Sleep - Premium bedding and a sofa bed
Bathroom - Private bathroom with a hair dryer
Practical - Sitting area and free local calls
Need to Know - Limited housekeeping
Non-Smoking

Room Amenities
Ceiling fan
Coffee/tea maker
Cookware, dishware, and utensils
Cribs/infant beds available
Dishwasher
Fireplace
Free Wi-Fi
Free local calls
Hair dryer
Housekeeping - once per stay
Iron/ironing board
Microwave
Phone
Premium bedding
Private bathroom
Separate sitting area
Sofa bed
Stovetop
Fraser Crossing / Founders Pointe 2 Bedroom Gold
1 sofa bed or 1 king and 1 queen bed
Relax - Fireplace
Entertainment - Free WiFi
Food & Drink - Microwave and coffee/tea maker
Sleep - Premium bedding and a sofa bed
Bathroom - Private bathroom with a hair dryer
Practical - Sitting area and free local calls
Need to Know - Limited housekeeping
Non-Smoking

Room Amenities
Ceiling fan
Coffee/tea maker
Cookware, dishware, and utensils
Cribs/infant beds available
Dishwasher
Fireplace
Free Wi-Fi
Free local calls
Hair dryer
Housekeeping - once per stay
Iron/ironing board
Microwave
Phone
Premium bedding
Private bathroom
Separate sitting area
Sofa bed
Stovetop
Fraser Crossing / Founders Pointe 2 Bedroom Platinum
1 sofa bed or 1 king and 1 queen bed
Relax - Fireplace
Entertainment - Free WiFi
Food & Drink - Microwave and coffee/tea maker
Sleep - Premium bedding and a sofa bed
Bathroom - Private bathroom with a hair dryer
Practical - Sitting area and free local calls
Need to Know - Limited housekeeping
Non-Smoking

Room Amenities
Ceiling fan
Coffee/tea maker
Cookware, dishware, and utensils
Cribs/infant beds available
Dishwasher
Fireplace
Free Wi-Fi
Free local calls
Hair dryer
Housekeeping - once per stay
Iron/ironing board
Microwave
Phone
Premium bedding
Private bathroom
Separate sitting area
Sofa bed
Stovetop
Fraser Crossing / Founders Pointe 3 Bedroom Platinum
1 king bed or 2 queen and 1 sofa bed
Relax - Fireplace
Entertainment - Free WiFi
Food & Drink - Microwave and coffee/tea maker
Sleep - Premium bedding and a sofa bed
Bathroom - Private bathroom with a hair dryer
Practical - Sitting area and free local calls
Need to Know - Limited housekeeping
Non-Smoking

Room Amenities
Ceiling fan
Coffee/tea maker
Cookware, dishware, and utensils
Cribs/infant beds available
Dishwasher
Fireplace
Free Wi-Fi
Free local calls
Hair dryer
Housekeeping - once per stay
Iron/ironing board
Microwave
Phone
Premium bedding
Private bathroom
Separate sitting area
Sofa bed
Stovetop
Fraser Crossing / Founders Pointe 3 Bedroom Gold
1 king bed or 2 queen and 1 sofa bed
Relax - Fireplace
Entertainment - Free WiFi
Food & Drink - Microwave and coffee/tea maker
Sleep - Premium bedding and a sofa bed
Bathroom - Private bathroom with a hair dryer
Practical - Sitting area and free local calls
Need to Know - Limited housekeeping
Non-Smoking

Room Amenities
Ceiling fan
Coffee/tea maker
Cookware, dishware, and utensils
Cribs/infant beds available
Dishwasher
Fireplace
Free Wi-Fi
Free local calls
Hair dryer
Housekeeping - once per stay
Iron/ironing board
Microwave
Phone
Premium bedding
Private bathroom
Separate sitting area
Sofa bed
Stovetop
Fraser Crossing / Founders Pointe 2 Bedroom Suite Silver
1 sofa bed or 1 king and 1 queen bed
Relax - Fireplace
Entertainment - Free WiFi
Food & Drink - Microwave and coffee/tea maker
Sleep - Premium bedding and a sofa bed
Bathroom - Private bathroom with a hair dryer
Practical - Sitting area and free local calls
Need to Know - Limited housekeeping
Non-Smoking

Room Amenities
Ceiling fan
Coffee/tea maker
Cookware, dishware, and utensils
Cribs/infant beds available
Dishwasher
Fireplace
Free Wi-Fi
Free local calls
Hair dryer
Housekeeping - once per stay
Iron/ironing board
Microwave
Phone
Premium bedding
Private bathroom
Separate sitting area
Sofa bed
Stovetop
Fraser Crossing / Founders Pointe Studio (Lockoff Gold)
1 king and 1 sofa bed
Relax - Fireplace
Entertainment - Free WiFi
Food & Drink - Microwave and coffee/tea maker
Sleep - Premium bedding and a sofa bed
Bathroom - Private bathroom with a hair dryer
Practical - Sitting area and free local calls
Need to Know - Limited housekeeping
Non-Smoking

Room Amenities
Ceiling fan
Coffee/tea maker
Cookware, dishware, and utensils
Cribs/infant beds available
Dishwasher
Fireplace
Free Wi-Fi
Free local calls
Hair dryer
Housekeeping - once per stay
Iron/ironing board
Microwave
Phone
Premium bedding
Private bathroom
Separate sitting area
Sofa bed
Stovetop
Fraser Crossing / Founders Pointe Studio (Lockoff Platinum)
1 king and 1 sofa bed
Relax - Fireplace
Entertainment - Free WiFi
Food & Drink - Microwave and coffee/tea maker
Sleep - Premium bedding and a sofa bed
Bathroom - Private bathroom with a hair dryer
Practical - Sitting area and free local calls
Need to Know - Limited housekeeping
Non-Smoking

Room Amenities
Ceiling fan
Coffee/tea maker
Cookware, dishware, and utensils
Cribs/infant beds available
Dishwasher
Fireplace
Free Wi-Fi
Free local calls
Hair dryer
Housekeeping - once per stay
Iron/ironing board
Microwave
Phone
Premium bedding
Private bathroom
Separate sitting area
Sofa bed
Stovetop
Fraser Crossing / Founders Pointe Studio (Lockoff Silver )
1 king and 1 sofa bed
Relax - Fireplace
Entertainment - Free WiFi
Food & Drink - Microwave and coffee/tea maker
Sleep - Premium bedding and a sofa bed
Bathroom - Private bathroom with a hair dryer
Practical - Sitting area and free local calls
Need to Know - Limited housekeeping
Non-Smoking

Room Amenities
Ceiling fan
Coffee/tea maker
Cookware, dishware, and utensils
Cribs/infant beds available
Dishwasher
Fireplace
Free Wi-Fi
Free local calls
Hair dryer
Housekeeping - once per stay
Iron/ironing board
Microwave
Phone
Premium bedding
Private bathroom
Separate sitting area
Sofa bed
Stovetop
Fraser Crossing / Founders Pointe 1 Bedroom Silver
1 king and 1 sofa bed
Relax - Fireplace
Entertainment - Free WiFi
Food & Drink - Microwave and coffee/tea maker
Sleep - Premium bedding and a sofa bed
Bathroom - Private bathroom with a hair dryer
Practical - Sitting area and free local calls
Need to Know - Limited housekeeping
Non-Smoking

Room Amenities
Ceiling fan
Coffee/tea maker
Cookware, dishware, and utensils
Cribs/infant beds available
Dishwasher
Fireplace
Free Wi-Fi
Free local calls
Hair dryer
Housekeeping - once per stay
Iron/ironing board
Microwave
Phone
Premium bedding
Private bathroom
Separate sitting area
Sofa bed
Stovetop
Fraser Crossing / Founders Pointe 1 Bedroom Gold
1 king and 1 sofa bed
Relax - Fireplace
Entertainment - Free WiFi
Food & Drink - Microwave and coffee/tea maker
Sleep - Premium bedding and a sofa bed
Bathroom - Private bathroom with a hair dryer
Practical - Sitting area and free local calls
Need to Know - Limited housekeeping
Non-Smoking

Room Amenities
Ceiling fan
Coffee/tea maker
Cookware, dishware, and utensils
Cribs/infant beds available
Dishwasher
Fireplace
Free Wi-Fi
Free local calls
Hair dryer
Housekeeping - once per stay
Iron/ironing board
Microwave
Phone
Premium bedding
Private bathroom
Separate sitting area
Sofa bed
Stovetop
Fraser Crossing / Founders Pointe 1 Bed Platinum
1 king and 1 sofa bed
Relax - Fireplace
Entertainment - Free WiFi
Food & Drink - Microwave and coffee/tea maker
Sleep - Premium bedding and a sofa bed
Bathroom - Private bathroom with a hair dryer
Practical - Sitting area and free local calls
Need to Know - Limited housekeeping
Non-Smoking

Room Amenities
Ceiling fan
Coffee/tea maker
Cookware, dishware, and utensils
Cribs/infant beds available
Dishwasher
Fireplace
Free Wi-Fi
Free local calls
Hair dryer
Housekeeping - once per stay
Iron/ironing board
Microwave
Phone
Premium bedding
Private bathroom
Separate sitting area
Sofa bed
Stovetop
Fraser Crossing / Founders Pointe 3 Bedroom Silver
1 king bed or 2 queen and 1 sofa bed
Relax - Fireplace
Entertainment - Free WiFi
Food & Drink - Microwave and coffee/tea maker
Sleep - Premium bedding and a sofa bed
Bathroom - Private bathroom with a hair dryer
Practical - Sitting area and free local calls
Need to Know - Limited housekeeping
Non-Smoking

Room Amenities
Ceiling fan
Coffee/tea maker
Cookware, dishware, and utensils
Cribs/infant beds available
Dishwasher
Fireplace
Free Wi-Fi
Free local calls
Hair dryer
Housekeeping - once per stay
Iron/ironing board
Microwave
Phone
Premium bedding
Private bathroom
Separate sitting area
Sofa bed
Stovetop
Fraser Crossing / Founders Pointe 3 Bedroom Gold
1 king bed or 2 queen and 1 sofa bed
Relax - Fireplace
Entertainment - Free WiFi
Food & Drink - Microwave and coffee/tea maker
Sleep - Premium bedding and a sofa bed
Bathroom - Private bathroom with a hair dryer
Practical - Sitting area and free local calls
Need to Know - Limited housekeeping
Non-Smoking

Room Amenities
Ceiling fan
Coffee/tea maker
Cookware, dishware, and utensils
Cribs/infant beds available
Dishwasher
Fireplace
Free Wi-Fi
Free local calls
Hair dryer
Housekeeping - once per stay
Iron/ironing board
Microwave
Phone
Premium bedding
Private bathroom
Separate sitting area
Sofa bed
Stovetop
Explore Nearby
1

677 Winter Park Dr

2

78656 US Hwy 40