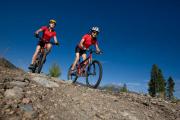 Edit
Guided Mountain-Biking Tour of Colorado's Front Range
About Guided Mountain-Biking Tour of Colorado's Front Range
Follow your experienced mountain-biking guide on an adventure through Colorado's Front Range, the gateway to Rocky Mountain National Park. On this mountain-biking tour, your expert guide will customize your trip so that you'll ride trails that align with your level of experience. Choose between a half-day beginner or intermediate adventure and get ready for a fun, scenic experience!
Whether you're a first-time mountain biker or a skilled thrill-seeker, embarking on a biking adventure through Colorado's Front Range is sure to leave you with unforgettable memories!
Enjoy a half-day (4-hour) mountain-biking adventure through the Front Range in the Rocky Mountains. Choose a beginner or intermediate level and let your experienced guide pick a system of trails that's right for you. Your day may take you on a portion of the legendary 486-mile (782-km) Colorado Trail or on one of the many trails that wind through the Front Range. Along the way, enjoy a sports drink and a energy bar to recharge.
Whatever route you take, you'll enjoy an exciting adventure in a scenic environment.