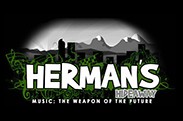 About Herman's Hideaway
Rockin' Denver for almost 30 years and getting S. Broadway drunk since 1962!
Herman's has hosted many bands featuring 3-5 bands a night every Wed.-Sat.

Today, newcomers get a chance to break into the scene in a weekly showcase of new talent on Wed., and on busy nights, the dance floor is a swirling mass of grooving chaos.

On the weekends the only thing that you can count on is the music will be good and that the dance floor will be full of the happiest people in Denver!