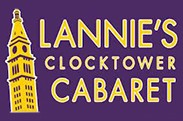 Lannie's Clocktower Cabaret
1601 Arapahoe Street
, Denver
, CO
80202
(303) 293-0075
Lannie's Clocktower Cabaret is located underground in the historic D&F Clocktower in the heart of the Denver theatre, hotel and shopping district. Sensual decor, cocktails, appetizers, dessert, and the most eclectic entertainment around, make Lannie's the
Sensual decor, cocktails, appetizers, dessert, and the most eclectic entertainment around, all make Lannie's the coolest room in town. Located underground in the historic D&F Clocktower in the heart of the Denver theatre, hotel and shopping district.
Videos from Lannie's Clocktower Cabaret
Add Video
Articles Mentioning Lannie's Clocktower Cabaret
There are plenty of holiday events in Denver to celebrate during the winter season. From dazzling light displays and festive parades, to top-notch dramatic and musical performances, the Mile High City transforms into a magical place that celebrates the spirit of the season in high style.