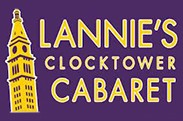 Edit
Lannie's Clocktower Cabaret
1601 Arapahoe Street
, Denver
, CO
80202
|
Directions
About Lannie's Clocktower Cabaret
Lannie's Clocktower Cabaret is located underground in the historic D&F Clocktower in the heart of the Denver theatre, hotel and shopping district. Sensual decor, cocktails, appetizers, dessert, and the most eclectic entertainment around, make Lannie's the
Sensual decor, cocktails, appetizers, dessert, and the most eclectic entertainment around, all make Lannie's the coolest room in town. Located underground in the historic D&F Clocktower in the heart of the Denver theatre, hotel and shopping district.
Articles mentioning Lannie's Clocktower Cabaret
The holiday season in Denver is best described in song: "A beautiful sight, we're happy tonight, walking in a winter wonderland." Despite the chill in the air as the temperature drops and the snow starts falling, there are many fun and festive holiday events in Denver.
Lannie's Clocktower Cabaret Videos