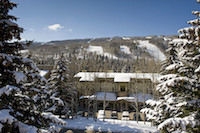 Lodge at Lionshead
380 E Lionshead Circle, Vail, CO 81657
1.800.252.8197
About Lodge at Lionshead
Lodge at Lionshead is a Hotel business in Vail
Property Location
Lodge at Lionshead is in the heart of Vail, walking distance from The Steadman Clinic and Vail Valley Medical Center. This condo is within close proximity of Cogswell Gallery and Colorado Ski and Snowboard Museum.
Rooms
Make yourself at home in one of the 36 guestrooms featuring microwaves and DVD players. Rooms have private furnished balconies or patios. Complimentary wireless Internet access keeps you connected, and cable programming is available for your entertainment. Private bathrooms with bathtubs or showers feature complimentary toiletries and hair dryers.
Rec, Spa, Premium Amenities
Enjoy a range of recreational amenities, including a spa tub, a sauna, and a fitness center. Additional amenities include complimentary wireless Internet access, concierge services, and babysitting/childcare (surcharge).
Business, Other Amenities
Featured amenities include a business center, complimentary newspapers in the lobby, and dry cleaning/laundry services. Free self parking is available onsite.
Lodge at Lionshead Amenities
24-hour front desk
Accessible parking
Accessible path of travel
Babysitting or childcare (surcharge)
Barbecue grill(s)
Business center
Complimentary newspapers in lobby
Concierge services
Dry cleaning/laundry service
Fitness facilities
Free Wi-Fi
Free self parking
Laundry facilities
Luggage storage
Number of floors - 4
Outdoor seasonal pool
Picnic area
Safe-deposit box at front desk
Sauna
Smoke-free property
Spa tub
Total number of rooms - 36
Lodge at Lionshead Studio (Platinum)
1 murphy bed
Features a private balcony

Entertainment - Free WiFi, flat-screen TV with cable channels
Food & Drink - Refrigerator, microwave, and coffee/tea maker
Bathroom - Private bathroom with a bathtub or shower, free toiletries, and a hair dryer
Practical - Cribs/infant beds available on request
Non-Smoking

Room Amenities
Bathtub or shower
Cable TV service
Coffee/tea maker
Complimentary toiletries
Cookware, dishware, and utensils
DVD player
Daily housekeeping
Free Wi-Fi
Free local calls
Furnished balcony or patio
Hair dryer
Iron/ironing board
Microwave
Phone
Private bathroom
Stovetop
Lodge at Lionshead Condo, 1 Bedroom (Platinum)
1 king bed or 2 queen beds
Features a private balcony

Entertainment - Free WiFi, flat-screen TV with cable channels
Food & Drink - Kitchen with refrigerator, stovetop, and microwave
Bathroom - Private bathroom with a bathtub or shower, free toiletries, and a hair dryer
Practical - Rollaway/extra beds and cribs/infant beds available on request
Non-Smoking

Room Amenities
Bathtub or shower
Cable TV service
Coffee/tea maker
Complimentary toiletries
Cookware, dishware, and utensils
DVD player
Daily housekeeping
Free Wi-Fi
Free local calls
Furnished balcony or patio
Hair dryer
Iron/ironing board
Microwave
Phone
Private bathroom
Stovetop
Lodge at Lionshead Condo, 2 Bedrooms (Platinum)
1 king bed or 1 queen bed or 1 twin bed
Features a private balcony

Entertainment - Free WiFi, flat-screen TV with cable channels
Food & Drink - Kitchen with refrigerator, stovetop, and microwave
Bathroom - Private bathroom with a bathtub or shower, free toiletries, and a hair dryer
Practical - Rollaway/extra beds and cribs/infant beds available on request
Non-Smoking

Room Amenities
Bathtub or shower
Cable TV service
Coffee/tea maker
Complimentary toiletries
Cookware, dishware, and utensils
DVD player
Daily housekeeping
Free Wi-Fi
Free local calls
Furnished balcony or patio
Hair dryer
Iron/ironing board
Microwave
Phone
Private bathroom
Stovetop
Lodge at Lionshead Condo, 3 Bedrooms (Platnium)
1 double bed or 1 king bed or 1 queen bed or 1 twin bed
Features a private balcony

Entertainment - Free WiFi, flat-screen TV with premium channels
Food & Drink - Kitchen with refrigerator, stovetop, and microwave
Bathroom - Private bathroom with a bathtub or shower, free toiletries, and a hair dryer
Practical - Rollaway/extra beds and cribs/infant beds available on request
Non-Smoking

Room Amenities
Bathtub or shower
Cable TV service
Coffee/tea maker
Complimentary toiletries
Cookware, dishware, and utensils
DVD player
Daily housekeeping
Free Wi-Fi
Free local calls
Furnished balcony or patio
Hair dryer
Iron/ironing board
Microwave
Phone
Private bathroom
Stovetop
Lodge at Lionshead Condo, 4 Bedrooms (Platinum)
1 trundle bed or 1 king, 2 queen, and 2 twin beds
Features a private balcony

Entertainment - Free WiFi, flat-screen TV with premium channels
Food & Drink - Kitchen with refrigerator, stovetop, and microwave
Bathroom - Private bathroom with a bathtub or shower, free toiletries, and a hair dryer
Practical - Rollaway/extra beds and cribs/infant beds available on request
Non-Smoking

Room Amenities
Bathtub or shower
Cable TV service
Coffee/tea maker
Complimentary toiletries
Cookware, dishware, and utensils
DVD player
Daily housekeeping
Free Wi-Fi
Free local calls
Furnished balcony or patio
Hair dryer
Iron/ironing board
Microwave
Phone
Private bathroom
Stovetop
Lodge at Lionshead Platinum Studio Loft
1 queen and 1 murphy bed
Features a private furnished balcony/patio

Entertainment - Free WiFi, cable channels, and DVD player
Food & Drink - Microwave and coffee/tea maker
Bathroom - Private bathroom with a bathtub or shower, free toiletries, and a hair dryer
Non-Smoking

Room Amenities
Bathtub or shower
Cable TV service
Coffee/tea maker
Complimentary toiletries
Cookware, dishware, and utensils
DVD player
Daily housekeeping
Free Wi-Fi
Free local calls
Furnished balcony or patio
Hair dryer
Iron/ironing board
Microwave
Phone
Private bathroom
Stovetop
Lodge at Lionshead Condo, 2 Bedrooms (Gold)
1 bed
Features a private furnished balcony/patio

Entertainment - Free WiFi, cable channels, and DVD player
Food & Drink - Microwave and coffee/tea maker
Bathroom - Private bathroom with a bathtub or shower, free toiletries, and a hair dryer
Non-Smoking

Room Amenities
Bathtub or shower
Cable TV service
Coffee/tea maker
Complimentary toiletries
Cookware, dishware, and utensils
DVD player
Daily housekeeping
Free Wi-Fi
Free local calls
Furnished balcony or patio
Hair dryer
Iron/ironing board
Microwave
Phone
Private bathroom
Stovetop
Lodge at Lionshead Condo, 3 Bedrooms (Gold)
1 bed
Features a private furnished balcony/patio

Entertainment - Free WiFi, cable channels, and DVD player
Food & Drink - Microwave and coffee/tea maker
Bathroom - Private bathroom with a bathtub or shower, free toiletries, and a hair dryer
Non-Smoking

Room Amenities
Bathtub or shower
Cable TV service
Coffee/tea maker
Complimentary toiletries
Cookware, dishware, and utensils
DVD player
Daily housekeeping
Free Wi-Fi
Free local calls
Furnished balcony or patio
Hair dryer
Iron/ironing board
Microwave
Phone
Private bathroom
Stovetop
Lodge at Lionshead Condo, 4 Bedrooms (Gold)
2 king beds or 2 single beds or 1 queen and 1 bunk bed
Features a private furnished balcony/patio

Entertainment - Free WiFi, cable channels, and DVD player
Food & Drink - Microwave and coffee/tea maker
Bathroom - Private bathroom with a bathtub or shower, free toiletries, and a hair dryer
Non-Smoking

Room Amenities
Bathtub or shower
Cable TV service
Coffee/tea maker
Complimentary toiletries
Cookware, dishware, and utensils
DVD player
Daily housekeeping
Free Wi-Fi
Free local calls
Furnished balcony or patio
Hair dryer
Iron/ironing board
Microwave
Phone
Private bathroom
Stovetop
Lodge at Lionshead Condo, Studio (Platinum)
1 murphy bed
350-sq-foot (33-sq-meter) room with a furnished balcony/patio

Relax - In-room massage available
Entertainment - Free WiFi, flat-screen TV with cable channels
Food & Drink - Kitchenette with refrigerator, stovetop, and microwave
Bathroom - Private bathroom with a bathtub or shower, free toiletries, and a hair dryer
Practical - Cribs/infant beds available on request
Non-Smoking

Room Amenities
Bathtub or shower
Cable TV service
Coffee/tea maker
Complimentary toiletries
Cookware, dishware, and utensils
DVD player
Daily housekeeping
Free Wi-Fi
Free local calls
Furnished balcony or patio
Hair dryer
Iron/ironing board
Microwave
Phone
Private bathroom
Stovetop
Lodge at Lionshead Condo, Studio Loft (Platinum)
1 queen and 1 murphy bed
600-sq-foot (56-sq-meter) room with a furnished balcony/patio

Relax - In-room massage available
Entertainment - Free WiFi, flat-screen TV with cable channels
Food & Drink - Kitchen with refrigerator, stovetop, and microwave
Bathroom - Private bathroom with a shower, free toiletries, and a hair dryer
Practical - Free local calls and ceiling fan; cribs/infant beds available on request
Non-Smoking

Room Amenities
Bathtub or shower
Cable TV service
Coffee/tea maker
Complimentary toiletries
Cookware, dishware, and utensils
DVD player
Daily housekeeping
Free Wi-Fi
Free local calls
Furnished balcony or patio
Hair dryer
Iron/ironing board
Microwave
Phone
Private bathroom
Stovetop
Lodge at Lionshead Condo, 3 Bedroom Penthouse (Gold)
5 beds
1800-sq-foot (167-sq-meter) room, furnished balcony/patio with mountains views

Relax - Fireplace; in-room massage available
Entertainment - Free WiFi, flat-screen TV with cable channels
Food & Drink - Kitchen with refrigerator, stovetop, and microwave
Sleep - 3 bedrooms
Bathroom - Private bathroom with a bathtub or shower, free toiletries, and a hair dryer
Practical - Sofa bed, living room, and dining area; cribs/infant beds available on request
Non-Smoking

Room Amenities
Bathtub or shower
Cable TV service
Coffee/tea maker
Complimentary toiletries
Cookware, dishware, and utensils
DVD player
Daily housekeeping
Free Wi-Fi
Free local calls
Furnished balcony or patio
Hair dryer
Iron/ironing board
Microwave
Phone
Private bathroom
Stovetop
Lodge at Lionshead Condo, 1 Bedroom (Platinum)
1 king bed or 2 queen beds
800-sq-foot (74-sq-meter) room with a furnished balcony/patio

Relax - Fireplace; in-room massage available
Entertainment - Free WiFi, flat-screen TV with cable channels
Food & Drink - Kitchen with refrigerator, stovetop, and microwave
Bathroom - Private bathroom with a bathtub or shower, free toiletries, and a hair dryer
Practical - Living room, washer/dryer, and free local calls; cribs/infant beds available on request
Non-Smoking

Room Amenities
Bathtub or shower
Cable TV service
Coffee/tea maker
Complimentary toiletries
Cookware, dishware, and utensils
DVD player
Daily housekeeping
Free Wi-Fi
Free local calls
Furnished balcony or patio
Hair dryer
Iron/ironing board
Microwave
Phone
Private bathroom
Stovetop
Lodge at Lionshead Condo, 2 Bedrooms (Platinum)
3 beds
1000-sq-foot (93-sq-meter) room with a furnished balcony/patio

Relax - Fireplace; in-room massage available
Entertainment - Free WiFi, flat-screen TV with cable channels
Food & Drink - Kitchen with refrigerator, stovetop, and microwave
Sleep - 2 bedrooms
Bathroom - Private bathroom with a bathtub or shower, free toiletries, and a hair dryer
Practical - Living room and free local calls; cribs/infant beds available on request
Non-Smoking

Room Amenities
Bathtub or shower
Cable TV service
Coffee/tea maker
Complimentary toiletries
Cookware, dishware, and utensils
DVD player
Daily housekeeping
Free Wi-Fi
Free local calls
Furnished balcony or patio
Hair dryer
Iron/ironing board
Microwave
Phone
Private bathroom
Stovetop
Lodge at Lionshead Condo, 3 Bedrooms (Platinum)
4 beds
1600-sq-foot (149-sq-meter) room, furnished balcony/patio with mountains views

Relax - Fireplace; in-room massage available
Entertainment - Free WiFi, flat-screen TV with cable channels
Food & Drink - Kitchen with refrigerator, stovetop, and microwave
Sleep - 3 bedrooms
Bathroom - Private bathroom with a bathtub or shower, free toiletries, and a hair dryer
Practical - Living room, dining area, and washer/dryer; cribs/infant beds available on request
Non-Smoking

Room Amenities
Bathtub or shower
Cable TV service
Coffee/tea maker
Complimentary toiletries
Cookware, dishware, and utensils
DVD player
Daily housekeeping
Free Wi-Fi
Free local calls
Furnished balcony or patio
Hair dryer
Iron/ironing board
Microwave
Phone
Private bathroom
Stovetop
Lodge at Lionshead Condo, 4 Bedrooms (Platinum)
5 beds
1760-sq-foot (164-sq-meter) room, furnished balcony/patio with mountains views

Relax - Fireplace; in-room massage available
Entertainment - Free WiFi, flat-screen TV with cable channels
Food & Drink - Kitchen with refrigerator, stovetop, and microwave
Sleep - 4 bedrooms
Bathroom - Private bathroom with a bathtub or shower, free toiletries, and a hair dryer
Practical - Living room, dining area, and washer/dryer; cribs/infant beds available on request
Non-Smoking

Room Amenities
Bathtub or shower
Cable TV service
Coffee/tea maker
Complimentary toiletries
Cookware, dishware, and utensils
DVD player
Daily housekeeping
Free Wi-Fi
Free local calls
Furnished balcony or patio
Hair dryer
Iron/ironing board
Microwave
Phone
Private bathroom
Stovetop
Lodge at Lionshead Condo, 2 Bedrooms (Gold)
3 beds
1000-sq-foot (93-sq-meter) room with a furnished balcony/patio

Relax - Fireplace; in-room massage available
Entertainment - Free WiFi, flat-screen TV with cable channels
Food & Drink - Kitchen with refrigerator, stovetop, and microwave
Sleep - 2 bedrooms
Bathroom - Private bathroom with a bathtub or shower, free toiletries, and a hair dryer
Practical - Living room, dining area, and free local calls; cribs/infant beds available on request
Non-Smoking

Room Amenities
Bathtub or shower
Cable TV service
Coffee/tea maker
Complimentary toiletries
Cookware, dishware, and utensils
DVD player
Daily housekeeping
Free Wi-Fi
Free local calls
Furnished balcony or patio
Hair dryer
Iron/ironing board
Microwave
Phone
Private bathroom
Stovetop
Lodge at Lionshead Condo, 3 Bedrooms (Gold)
5 beds
1600-sq-foot (149-sq-meter) room, furnished balcony/patio with mountains views

Relax - Fireplace; in-room massage available
Entertainment - Free WiFi, flat-screen TV with cable channels
Food & Drink - Kitchen with refrigerator, stovetop, and microwave
Sleep - 3 bedrooms
Bathroom - Private bathroom with a bathtub or shower, free toiletries, and a hair dryer
Practical - Living room, dining area, and washer/dryer; cribs/infant beds available on request
Non-Smoking

Room Amenities
Bathtub or shower
Cable TV service
Coffee/tea maker
Complimentary toiletries
Cookware, dishware, and utensils
DVD player
Daily housekeeping
Free Wi-Fi
Free local calls
Furnished balcony or patio
Hair dryer
Iron/ironing board
Microwave
Phone
Private bathroom
Stovetop
Lodge at Lionshead Condo, 4 Bedrooms (Gold)
6 beds
2000-sq-foot (186-sq-meter) room with a furnished balcony/patio

Relax - Fireplace; in-room massage available
Entertainment - Free WiFi, flat-screen TV with cable channels
Food & Drink - Kitchen with refrigerator, stovetop, and microwave
Sleep - 4 bedrooms
Bathroom - Private bathroom with a bathtub or shower, free toiletries, and a hair dryer
Practical - Living room, dining area, and washer/dryer; cribs/infant beds available on request
Non-Smoking

Room Amenities
Bathtub or shower
Cable TV service
Coffee/tea maker
Complimentary toiletries
Cookware, dishware, and utensils
DVD player
Daily housekeeping
Free Wi-Fi
Free local calls
Furnished balcony or patio
Hair dryer
Iron/ironing board
Microwave
Phone
Private bathroom
Stovetop