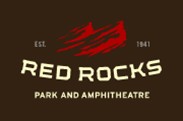 Red Rocks Amphitheatre
18300 West Alameda Parkway
, Morrison
, CO
80204
(720) 865-2494
Red Rocks Amphitheatre is a geological phenomenon -- the only naturally-occurring, acoustically perfect amphitheatre in the world. From Sting and The Beatles, to opera stars and U2, every artist aspires to play on this magical stage.
Hiking, biking and the nation's best Live Music Amphitheater.

The 868-acre Red Rocks Park and Amphitheater, nestled in the Rocky Mountain Foothills just 15 miles outside of Denver near Morrison, was once listed among the Seven Wonders of the World—and with good reason. Ship Rock and Creation Rock, the largest of the monoliths, tower 300 feet above the Red Rocks Amphitheater. These massive brick-colored sandstone monoliths are taller than Niagara Falls.

Red Rocks Park is home to a healthy population of Colorado's beautiful plants and wildlife. In this area, the Great Plains run into the Rocky Mountains at an elevation of more than a mile, creating a home to a unique blend of animals. An excellent way to spot the various birds, deer, foxes and smaller rodents is to utilize Red Rocks' hiking trails. The Trading Post loop is 1.4 miles and meanders through the gorgeous rock formations of the park. Excellent hotels are located nearby, for those visiting from out of town.

Red Rocks Park has been named one of the best concert venues in the world. This incredible open-air amphitheater was designed to preserve the natural beauty of the great sandstone ledges. The massive monoliths act as natural sound walls, creating unparalleled acoustics. The Amphitheater has seen several world-renown acts, including the Grateful Dead, Dave Matthews Band, John Denver and The Beatles.

The natural beauty of Colorado is captured in this amazing park and concert venue, providing 360-degree views of Denver and the Plains for over 200 miles.

Thanks to the City of Denver's Division of Theaters & Arenas as well as Division of Parks & Recreation for providing the pictures of this beautiful vista.
Videos from Red Rocks Amphitheatre
Add Video
Articles Mentioning Red Rocks Amphitheatre
Todd Park Mohr, or Big Head Todd as he is known to his fans, is back in Denver after spending a few years in the Chicago. We caught up with him to discuss his new release out and the Denver music scene.

Sean Kelly has been a part of the Colorado music scene for more than 25 years, starting in Boulder before making a home in Denver.

Colorado's "Wild West" history is complete with boomtowns, saloons and brothels associated with the early mining industry. Denver not only was at the epicenter of it all, but survived to become a thriving state capital. While the city's wildest days are long gone, several historic attractions in Denver remain.