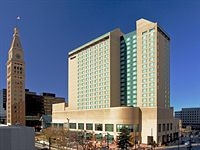 The Westin Denver Downtown
1672 Lawrence Street, Denver, CO 80202
1.800.252.8197
Need Help?
Call 1.800.252.8197
Four-Diamond Style & Luxury Downtown Denver. The Westin Denver Downtown is a business-friendly hotel located in central Denver, close to Denver Performing Arts Center, Colorado Convention Center, and US Mint. Ask for Promo Code: FMT
One block off the 16th Street Mall, the Westin Denver Downtown is a stylish Downtown Denver hotel offering Four-Diamond appeal & luxury. Visitors to Denver will be pleased with the great location, bountiful nearby shopping and dining including the on-site Palm Restaurant (one of the nation's finest steak & lobster restaurants) and an on-site Starbucks. The Westin Denver Downtown hotel is also within walking distance to the Denver Convention Center, Denver Center for the Performing Arts, Denver Art Museum and numerous downtown attractions.

The Westin Denver Downtown Rooms

The Westin's spacious 400 square foot guest rooms are some of the largest in Denver. Recently and completely remodeled rooms feature natural color schemes, soothing textures a warm atmosphere and the acclaimed Heavenly Bed® and Heavenly Bath® & rooms.

Rooms provide a gorgeous panorama of the Rocky Mountains or a seductive view of Downtown Denver. And all rooms are smoke-free. The air is clean, the rooms are huge, the beds are a dream and the hotel is Four-Diamond. What more could a guest want?

Breathe Westin™
Westin Hotels & Resorts offers all guests the services, products and amenities that rejuvenate renew and restore the mind, body & spirit. This core philosophy touches everything Westin Hotels & Resorts does and includes providing a comfortable, clean and healthy environment for all guests.

Westin Denver Downtown's Features & Highlights

The hotel's earthy color scheme reminds guests that they are staying in the mile-high city. The lobby is warm and welcoming with a professional staff ready to make every guest's stay a memorable one. The Westin Denver Downtown also features a fabulous rooftop heated pool with a city-in-lights view of the Denver skyline.

The hotel also features the WestinWORKOUT® Powered by Reebok Gym, offering a variety cardiovascular spinning-cycle & treadmill machines, free weights, Pilates workout & DVD instructional equipment, and even a half-basketball court! Runners World Maps (designed & certified by Runner's World Magazine) are also available, featuring several local jogging & walking routes direct from the hotel.

The Westin Denver Downtown hotel welcomes dogs up to 30 lbs. (at no charge). A refundable deposit is required.

The Westin Denver Downtown also offers an excellent Concierge service, limited airport transportation, 24-hour room service, wake-up service, parking facilities, 24-hour front desk service and handicap accessible facilities.

Amenities

High Speed Internet Access
Coffee and Tea Maker
Refrigerator
Mini Bar
Accessible Heavenly Shower/Bath
Outdoor Whirlpool & Sun Deck
Gift Shop
Business Center
Westin Kids Club®

NOTE: Not all of these amenities are available in every room. Fees on certain amenities/services may apply.
Our Low Price Hotel Guarantee
We are confident that our hotel prices are guaranteed to be the lowest rate you can find. If you find a lower rate for your hotel on another site, we'll refund the difference to you. Book with us and enjoy total peace of mind!
If you find a lower rate at any time up until hotel's cancellation window, we'll match the price. The lower price you find needs to be for the same dates, length of stay and room type.
---
Found a better price?
The lower price you found must be available on another website directed to consumers in the same locale, and must be for the same hotel, dates and room type.
If you used a coupon/discount voucher when you made your original booking, you can still claim under the guarantee. We will use the total discounted price you paid and compare this to the lower price you found in order to calculate your refund.
If you have made a booking which cannot be cancelled — whether it is non-refundable or if you are already within the cancellation window for the hotel — then you can't claim under the guarantee. Bookings that were part of a specific promotion (e.g. 3 nights for the price of 2) are also excluded from claiming under the guarantee.
Once we have confirmed that you are due a refund under the guarantee we will issue the refund to the card you paid with at the time of booking. We will process your refund immediately but it may take your bank up to 30 days to process it and for it to show on your statement.
Why book with us?
Denver.com doesn't charge cancellation fees
We're just a phone call away: 1.800.252.8197 or 00.800.1610.1690 (Europe)