Stores in 16th Street Mall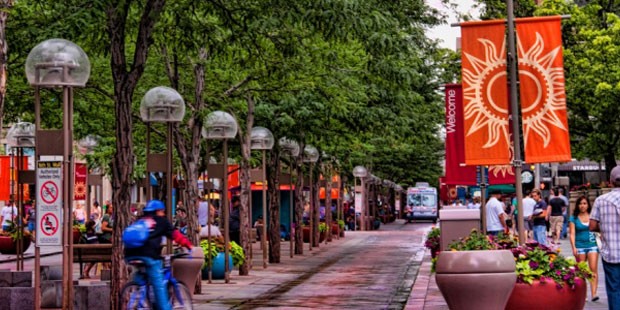 The 16th Street Mall is a pedestrian and transit mall, 1.25 miles (2 km) long, running along 16th Street in downtown Denver. It is home to over 300 locally owned/chain stores, over 50 restaurants, and the Denver Pavilions.
About 16th Street Mall
The 16th Street Mall is Denver's hub of shopping, dining and entertainment that stretches for 16 blocks in the heart of downtown. An environmentally friendly free shuttle service stops at every intersection to transport shoppers to more than a mile of Denver's best restaurants and shops. The 16th Street Mall recently became a wireless internet hot spot—visitors can log on for free anywhere along the Mall or Skyline Park. The 16th Street Mall Denver is conveniently located near many of Denver's top attractions. The Denver Performing Arts Complex and Colorado Convention Center are just two blocks from the Mall. Coors Field, The Pepsi Center and City Lights Pavilion are only four blocks away, making 16th Street Mall an excellent place to stop before or after a game or show. Locals and visitors alike enjoy strolling down the Mall's wide, pedestrian friendly sidewalks to people watch and visit with friends. Since no cars are allowed to drive through the Mall, navigating on foot or with the free shuttles is easy. Street vendors and performers add to the exciting atmosphere found here. The mall is home to many of the most popular shops, including Virgin Records Megastore, Niketown and Gap. The Mall's delicious restaurants, including Maggiano's Little Italy, Hard Rock Cafe and Rock Bottom Brewery, are all excellent places to take a break from a hard day of shopping. Several smaller cafes can also be found along the street, including Paradise Bakery, Suzy Q's Deli & Frozen Yogurt and Good Times. For a unique outdoor shopping experience, 16th Street Mall is the perfect choice while visiting Denver.